The lovely
Karen
asked me to write a post about Collar Flipping, Cuff Rolling and Shirt Tying – so here are my thoughts.
To Flip or Not to Flip – that is the question!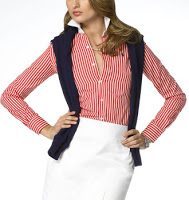 Collar flipping (that is standing up the collar of your shirt), can make your neck look longer (provided that the shirt isn't buttoned up too high – only button up to no higher than near the top of your cleavage), as it frames your face. It's a style that works for some (and others just feel plain stupid doing it), it's a more dramatic statement, so if you're very relaxed and casual in your personality, it's probably not for you. Your collar needs to be starched to do it, and I'd guess that the relaxed people I know don't iron, let alone use starch!
The other benefit of collar flipping is that it covers an older neck, and it also creates a more upward movement and line, drawing the eye up (not down) and as gravity is always trying to pull us down, upward lines are great.
Cuff rolling – lets start with sleeves – this will make your outfit look more relaxed and less classic, so if you're feeling a bit overdressed, try unbuttoning your cuffs and rolling them up – it also says "I'm a hard worker". The other benefit of it, is it makes your legs look longer, so if you have a longer body and shorter legs, go for it!
A rolled cuff on a jacket where you see a great lining can also be great to add some personality to your outfit.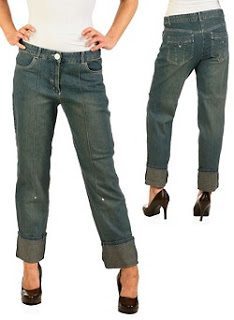 Cuff rolling – trousers – unless you have super long legs, DON'T DO IT! It will make you look stumpy as it creates big horizontal lines which visually shorten, what might already be on the shorter side. NEVER EVER roll up jeans – if they are too long have them professionally shortened. The different colour on the inside of a pair of jeans will just draw way too much attention. Please, I implore you to take this little piece of advice. Do you notice how in the pic she's got super high heels on to try and gain back some of the length her legs are losing with the cuff rolling – if you're a flat shoe wearer, it's an extra DON'T!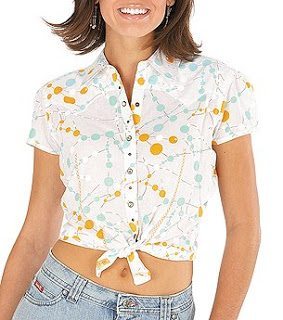 Shirt Tying – so you've got an oversized shirt, or one that hasn't got enough shaping, if you have a longer or slim waist, go on and tie that knot – it will emphasise your waist and draw attention to it. But – I'd advise you only do it over a tank top or something that covers your stomach (unless you're under 21 and have a fantastic stomach). It's suitable for the A, X and 8 Shapes, and possibly a small waisted V, but should be avoided by H and O's.