I was in the shops yesterday and noticed that suddenly racks of swimwear has appeared – so for all of us in the Southern Hemisphere who are heading toward summer or around the equator where it's always warm, I thought I'd put in some tips on choosing a new swimming costume (bathers or togs as we called them here in Australia when I was growing up).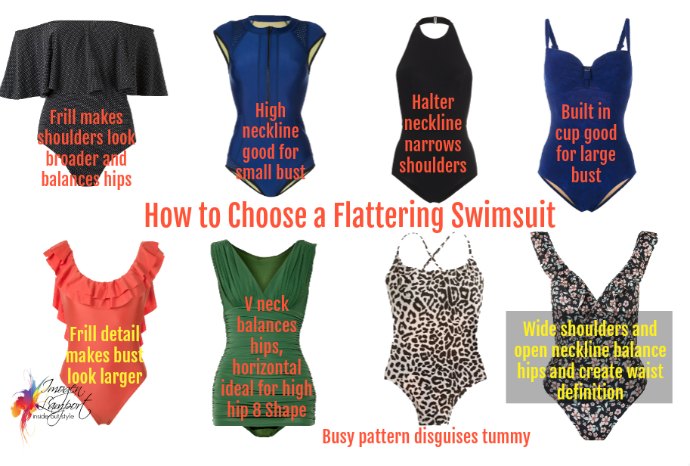 A Shape Swimsuit Tips
If you're an A shape or have sloping shoulders and want to balance your hips (making your hips look slimmer) choose a swimsuit that has horizontal details such as an off the shoulder (or strapless) number like the top left here.
You can also look for suits that have darker bottoms and lighter tops to draw attention up and skirt bottoms also work well. Avoid boy short styles as they broaden hips.
V Shape Swimsuit Tips
The opposite of an A shape, look for halternecks that draw the eye inwards and narrows the shoulders (top row 2nd from right).
H Shape Swimsuit Tips
Look for suits that don't have a belt or any sort of waist detailing (except for some strategic ruching that pulls you in at the tummy). A busy pattern can be great to distract from any tummy issues (bottom 2nd from right)
X Shape Swimsuit Tips
Wider necklines are great to balance hips (bottom right).
I Shape Swimsuit Tips
Ruffles can be a great way to add curves as can strategic cutouts around the waist. Boy shorts are a great style for you.
O Shape Swimsuit Tips
Look for a busy all over pattern to distract the eye and strategic ruching around the mid-section is also often flattering.
Small Bust Swimsuit Tips
Frills and ruffles over the bust are great in swimwear for you to give you more volume (bottom left). Be careful to avoid swimmers with inbuilt cups that you don't fill out. High necklines also work well for smaller busts (top 2nd left).
Large Bust Swimsuit Tips
Look for built in cups for added support (there are some great ranges that include this for the larger busted woman).
If you want to minimize your tummy, look for a suit like this which has pattern at the bust, and is darker and plain below.
Long Torso Swimsuit Tips
One-pieces can be hard, instead opt for a tankini if you want the coverage of a one-piece, or a bikini if you're happy to show off your body.
Short Legs Swimsuit Tips
Higher cut leg holes will make your legs appear longer, avoid boy shorts and low cut as they shorten the length of your legs.
Not sure of your body shape? You can take my free body shape calculator quiz and discover your shape (you can then download your Body Shape Bible), or if you'd like my professional opinion on what works for you, you can get this as part of my 7 Steps to Style program (which covers not only body shape, but also personality, a personal colour analysis plus so much more).
More Tips on Finding a Flattering Swimsuit