There seems to be a range of names given to these kind of shoe/boots, but no matter what you call them, what do you wear them with?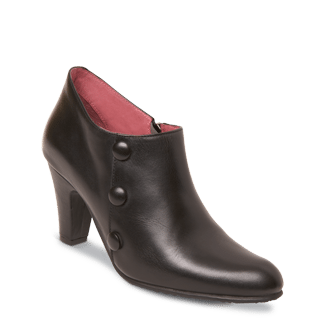 For example, these shooties end at the ankle (all pics from DUO boots which are available in foot sizes 2-10 and in 21 calf size options (30-50cm), and have what is known as a 'high vamp' which means they cover the front part of the foot. What the effect of the vamp does is either make the leg appear longer or shorter, which is an important feature, and so tells us what sort of clothes they should be teamed with. So even though you may see these shoes on models and celebrities who are wearing skirts or dresses, what you might fail to notice is that they wearing very short skirts or dresses (which many of us over the age of 25 tend to avoid), so unless we're 6 foot tall, and have legs that go on forever, then my advice would be to only wear them with trousers, never with skirts or cropped pants, as they make the leg appear even shorter.
If you want to wear boots, wear knee high (not mid-calf) boots with a skirt, they will slim your ankle and calf, and make your legs appear much longer as the leg appears to start at the toe, rather than the ankle, so we get a few inches of extra gam. I love boots, they're a fantastic addition to any shoe wardrobe, and can be worn both with skirts of any length, with cropped pants as well as under trousers (plus they keep your legs warmer on cold days).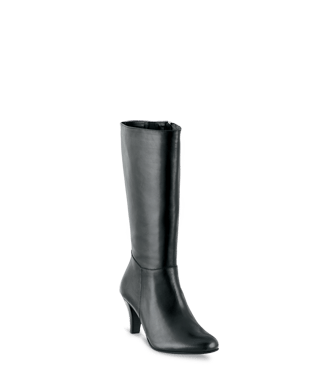 The only woman who can get away with the mid-calf boot is one who has super slim calves, and needs to create some curves on them. Otherwise, keep these under longer skirts or trousers, so we can't see where they finish.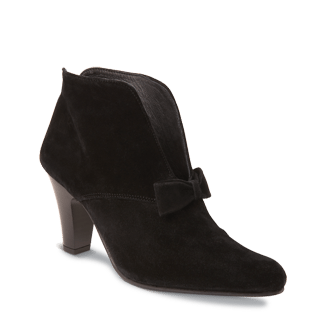 If you really want to wear an ankle length boot with a skirt, make sure it is one that is open further down the foot, a little like this one, to lower the vamp and show off more foot. It's best worn with opaque tights in the same colour as the boot, to create a more slimming and lengthening vertical line. I would only advise this if your legs are already on the longer side.