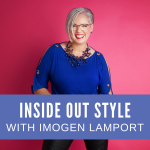 In this Episode
0.08 Tips on wearing white in summer
3.17 How to start transitioning my wardrobe when I plan to retire in the next year or so?
6.29 Going through menopause and finding that hot flushes and insomnia mean I'm lacking in style energy, plus my body shape has changed and many of my clothes don't fit anymore – help!
Wearing White
Wardrobe Transitions
4 Simple Tips to Help You Build a Stylish Wardrobe of Clothes
Lacking Style Energy
Sick of Thinking About What to Wear? 4 Ways to Deal with Image Burn Out
If You'd Like to Define Your Style and Discover Your Colours
If you're sick of wasting money on clothes that don't work and you know there is a better way, then join my 7 Steps to Style program and get the right information for you and your style.
Subscribe to my Podcast
You can now get these videos as podcasts subscribe and never miss an episode
Send me Your Questions
Please email me your questions to be included in my Q&A Lucky Dip!