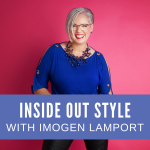 In this Episode
0.10 How do you determine your balance points?
4.19 Body 8 shape vs X shape – what's the difference and why is the advice for each different?
6.44 Are there any shades of brown I could pick for my shoes and bags if my colouring is cool and bright?
Balance Points
Understanding Balance Points and How They Influence Your Choice of Neckline
How to Find Your Balance Points – For Necklines and Jewellery
8 vs X shapes
Choosing Browns
How to Pick the Undertone of Brown to Find the Most Flattering Shade
Subscribe to my Podcast
You can now get these videos as podcasts subscribe and never miss an episode
Send me Your Questions
Please email me your questions to be included in my Q&A Lucky Dip!