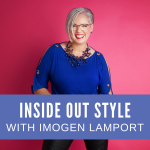 In this Episode
0.09 If you have an ideal value of medium light and medium-low value contrast but are an A shape – can you wear dark tops?
6.04 My young son has warm skin and cool eyes – can he be a mix of colouring?
8.33 If I'm neutrals plus 2 colours can I just wear a different coloured necklace to the colour in my top, or do I need to add that colour to more areas of my outfit – such as a bracelet too?
Light Value Can I Wear Dark Tops?
What's Your Ideal Value and How it Creates Balance in Outfits
Style Rules for Building a Wardrobe of Classic Staples When You Have a Light Ideal Value
Can You Have Mixed Undertones
Proportions of Colours with Colour Contrast
Using the 60/30/10 Rule to Create Fabulous Colour Combinations in Your Outfits
5 Colour Concept Essentials You Need to Understand To Create Harmonious Outfits
Subscribe to my Podcast
You can now get these videos as podcasts subscribe and never miss an episode
Send Me Your Colour and Style Questions
Please do email me your colour and style questions to answer on upcoming videos!