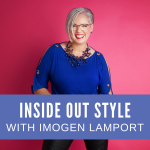 In This Video
9.19 I live in a cold climate. It's easy for me to feel stylish in the spring, summer, and fall – but I feel dowdy and dumpy all winter long.
I need to dress in cozy layers to keep warm (leggings with fleece over pants, long sleeve 1st layer with fleece or sweater 2nd layer, practical "everything", scarves, toques (I'm in Canada).
How to Dress for Extremely Cold Weather
How to Layer in Winter (or Any Season) Using More Than One Colour
If You'd Like to Define Your Style and Discover Your Colours
If you're sick of wasting money on clothes that don't work and you know there is a better way, then join my 7 Steps to Style program and get the right information for you and your style.
Subscribe to my Podcast
You can now get these videos as podcasts subscribe and never miss an episode
Send me Your Questions
Please email me your questions to be included in my Q&A Lucky Dip!