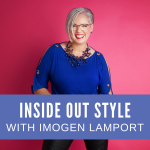 In This Episode
6.08 My biggest challenge is I don't have a size that works for me on a regular basis. I'm 68 and retired. I spent my last 30 years of work as the assistant to the registrar at a Community College. I had a professional wardrobe, and dressed sharp every day. When I retired 7 years ago, I gave away my "work clothes" to a women's shelter. I pictured myself in athletic wear, for the duration. Then, 6 months after retiring, I got breast cancer.
That was an experience that took me to the brink and back. That was 6 years ago. That experience aged me, and I'm trying hard to do everything right to prevent a recurrence. Now, I have a disconnect with how I look on the outside and how I feel on the inside. My belly has gotten soft and I can't even hold it in. I have an "H" shape and back flab. I don't enjoy shopping for clothes because when I try on jeans, for instance, they fit great everywhere, but I can't zip them up. If I buy ones I can zip, they look horrible and unflattering everywhere else. I really want a casual wardrobe that includes jeans, shirts, sweaters, etc. Can you help me? I don't know where or how to start. When I worked, I had a wardrobe based around neutrals, mainly, that I could change up with a cardigan, blazer, scarf, etc.
Rediscovering Your Style
Unveiling Your New Signature Style – Embracing Change with Elegance and Comfort
Finding Your Sense of Style: Rediscovering and Refining Your Fashion Identity
If You'd Like to Define Your Style and Discover Your Colours
If you're sick of wasting money on clothes that don't work and you know there is a better way, then join my 7 Steps to Style program and get the right information for you and your style.
Subscribe to my Podcast
You can now get these videos as podcasts subscribe and never miss an episode
Send me Your Questions
Please email me your questions to be included in my Q&A Lucky Dip!