Reader Question – I live on a farm and my lifestyle has always needed comfortable and practical clothing. I am 70 and recently retired. I still want my clothes to be comfortable and practical but want to wear pretty and smart things as well.
My personal style quiz results say that Relaxed is the best look for me but the colours you link to are in my opinion revolting. They belong down the paddock up to my ears in mud or dust. Do you have any prettier but still practical suggestions?
Defining Your Personality Style
Defining your style is the easiest way to have a wardrobe full of clothes you love to wear. This is why I've developed my free Personality Style Quiz to help you figure out how your personality influences your style choices. In this quiz you'll discover, what I call your BASE or CORE personality dressing style. This is an important part of your personal style, but nobody is limited to just one of the personality dressing styles you'll pull from when creating your outfits each day. This is why you may like the styles but hate the colours as this reader has expressed!
At the core of the Relaxed personality dressing styles, there are a range of personality elements to consider
attitude – relaxed, practical, comfortable, reliable, easy-going, pragmatic
look – loose fitting comfortable and practical fabrics such as Knitwear; stretch fabrics; denim; wash and wear items and that don't need ironing or natural fibres that are breathable and comfortable to wear.
patterns – predominately such as horizontal stripes and checks , it's more likely relaxed dressing styles will favour texture over pattern
colours – tend to be colours of nature such olive green , sage, rust, sky blue and chambray denim
garment details – these would be uncomplicated and limited to functionality, purely there for the purposed of getting garments on and off
This is just a starter list of what is inside the Relaxed personality dressing style.
You are a Multi-Dimensional Woman
Every woman is a mixture of styles and how you take elements of each of the dressing styles is unique to you – as you're an individual. If you like the design details of one personality style, but not the colour combination then you may also be a mixture of 2, 3 or 4 styles. This is what I tend to expect to see. People are not one dimensional, everyone is unique, so even if we have some similar personality traits, how we like to express them in our clothing can vary greatly from person to person. I once remember doing a style consultation with two women (friends) they both were a mix of Classic, Relaxed and Feminine in their personality dressing styles, yet they would never have worn each other's clothes or outfits because the elements and design details they chose from each of those dressing styles were completely different!
You may be Relaxed at your core where comfortable practical clothes are what is required for much of life however you may have a secondary personality dressing style as Feminine as you'd mentioned incorporating nice and pretty elements.
The Feminine personality dressing style combines the following elements
attitude – warm, nurturing, caring
look – curvy female shape, soft and touchable fabrics. The drape is also important. The fabric flows and it's not stiff or heavy.
patterns – floral, paisley, curvy prints, polka dots
colours – soft and pretty, not harsh or bold. Light blues, purples, pinks, greens, lemons. Champagne, mushroom and cream, fawn, light grey and beige
garment details – bows, frills, sequins and laces
If you've participated in more than 5 minutes of yard work or are a keen gardener, you'll know that a practical lifestyle requires its own wardrobe. You'll want to stay comfortable, well protected and presentable while you garden or do your chores, but that doesn't mean you can't incorporate elements of the Feminine personality dressing style. Why not find a t-shirt in a floral pattern in colours you love? It's practical but instead of being plain or not your style, it incorporates an element of the pretty that you're after.
If you like the Relaxed style as your core but you dislike those colours, don't wear those colours. Take the practical elements that you require in clothing from the Relaxed dressing style and bring in colours that you do like from the Feminine dressings style.
Adding an Additional Personality Dressing Style
And then you mention the word "Smart" in your description of how you'd like to look. This brings in a third personality dressing style (Classic) and it's getting into this combination of styles that really helps you feel at home in your clothing and that it's right for you.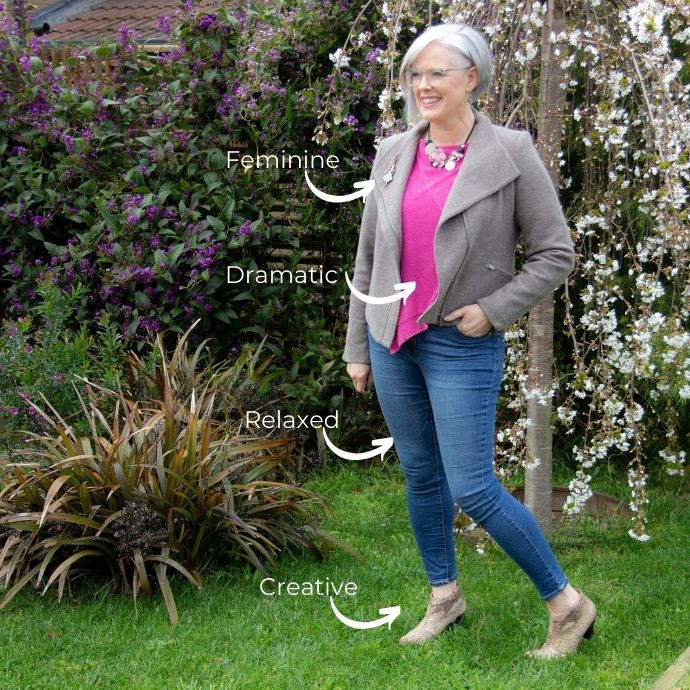 Every outfit is a mix – just like mine is here and I've put some simple labels on so you can see the mix – Relaxed expressions and fabrics, creative details in the asymmetry and boots, bold dramatic colour in my top, and feminine brooches and necklace, mixing them together – that's creative too!
The more you understand about the personality dressing style and all the different elements that go into them and how to layer up elements to create your personal style. Once you understand which of those elements really speak to you and that you want to add into your own style, you can add begin to add elements of feminine dressing styles. You could add a shirt with a ruffle hem or floral pattern. Consider feminine elements in your haircut, grooming; and accessories. There are so many options including floral rain boots; a polka dot gloves and a Broderie Anglaise trim on your gardening apron.
The reality is that no matter your lifestyle, you need the clothes that work for it practically, and they need to be in the styles that speak to your personality and make you feel like the best version of you no matter what you're doing.
Discover the Personality Dressing Styles in Detail
If you'd like to know more about Personality Dressing Styles, check out my 7 Steps to Style program where we do a deep dive into understanding all seven of the personality dressing styles and how you can take small elements of each of those personality dressing styles to layer them up to create your own unique personal style. I know from working with thousands of women that defining your personal style is the easiest way to have a wardrobe full of clothes you love to wear, that work for your life and style and that love you back! women's farm clothes
Related Reading