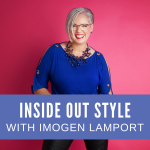 In This Episode
3.30 In a nutshell I struggle with summer dressing with layers. I like to wear wide-leg trousers and need something slimmer on top to balance out my big hips and legs.
However, since menopause, I have changed shape. I used to be a pear; with a small bust, delicate shoulders, and wide hips. However, now my tummy is bigger and so are my arms. My shoulders which used to look narrow, are now in line with my hips, (although my bust is still smaller than my hips). The bigger arms seem to have balanced out the hips, which has confused me when trying to work out which new shape I fall into.
Also, I have no idea which type of cardigan would look good on me. I have big arms, so I am not sure if I should wear a classic crew neck cardigan as clingy arms look terrible. I am contemplating buying a cream shorter jacket to go with darker trousers, but I don't like the boxy jackets that are in fashion now and think something more shaped would look better. However, I don't believe long jackets look good with wide-leg or palazzo pants when you have prominent hips and a small bust.
my biggest style challenge is how to dress a larger body than I used to!
8.31 I'm now a curvy size 14-16. I'm more comfortable in black and dark colours, and stretchy clothes, but I don't feel really great; I don't enjoy getting dressed or shopping. I've started to accept that buying a larger size will be more comfortable and even more flattering, but it's depressing. To compound that challenge, I've started a job this year where the dress code is smart casual in "pale, neutral colours – like white, beige, linen and sand – and sage and olive greens". I love green so that's great, but wearing pale colours makes me uncomfortable.
I'm petrified of getting dirty but more than that, I feel like the Michelin man! Every spare tyre and lump and bump shows up and I feel huge. I can't wait to get home and climb into my leggings and oversized jumper and hide.
I'm out of my depth as to how to dress as a larger woman, which pale colours within the work palette suit me and how to wear them, and how to put together a pale outfit that's complimentary to my shape and relaxed boho style that's still suitable for a resort reception job and still speaks to my style
Finding the Right Neutrals
9 Ways Knowing Your Best Colours Will Change Your Life as Well as Your Wardrobe
How do I Find the Right Neutrals to Act as an Anchor for My Wardrobe?
If You'd Like to Define Your Style and Discover Your Colours
If you're sick of wasting money on clothes that don't work and you know there is a better way, then join my 7 Steps to Style program and get the right information for you and your style.
Subscribe to my Podcast
You can now get these videos as podcasts subscribe and never miss an episode
Send me Your Questions
Please email me your questions to be included in my Q&A Lucky Dip!