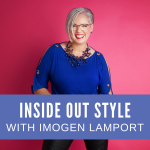 In This Episode
As a recently (3 years ago) retired person now living in Mexico, my greatest challenge is making the transition from the work wardrobe to the more casual, climate appropriate style that prevails here. I've always worn either baggy clothes or slightly tailored and more form-fitting depending on my weight.
I've lost 20 pounds, so I have a chance to reinvent myself for the second half of my life. I continue to be drawn to both more tailored clothing – fitted capris with shirts tucked in, even though my personality is quirky and artistic.
The body shape challenge is crazy because of all the conflicting advice.
I am short (5'3″), a slightly square-ish X, long torso, short legs. Most of the torso is chin to waist, but the bulk of that is chin to bust. Plus, given the cobblestone streets, athletic shoes and supportive sandals are it. Heels of any kind don't work, as I walk everywhere.
I sew and design my own patterns, so I can make anything happen. As soon as I figure out what "anything " I'm aiming for.
I've never really cared before, but now I'm haunting the style blogs trying to up my game from shorts or knit skorts and "message" t-shirts to something nicer that addresses both my love of Jacki O & Audrey Hepburn and my quirky personality.
If You'd Like to Define Your Style and Discover Your Colours
If you're sick of wasting money on clothes that don't work and you know there is a better way, then join my 7 Steps to Style program and get the right information for you and your style.
Subscribe to my Podcast
You can now get these videos as podcasts subscribe and never miss an episode
Send me Your Questions
Please email me your questions to be included in my Q&A Lucky Dip!