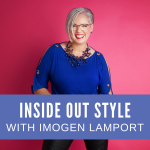 In This Episode
0.16 I don't want to dress like a teenager but I want to dress like an old woman. Any tips?
6.08 My biggest challenge is combining what looks good on my more yang frame and also fits my more yin personality. I wear jeans to work and rarely have a need to dress up. Plus, comfort and not putting much thought into getting dressed are important to me. Most inspiration outfits that would look good on my silhouette are with blazers, dresses, skirts, or dress pants, which I usually don't wear. A lot of the clothes with bows and other pretty details come in pastel colors, which wash me out. Simple has always looked best on me. But, as I'm getting older, I find that I need more drama in my look.
8.33 My biggest challenge is being overweight. I don't look as good in my clothes and can't do some of the styling with my clothes that I could if I was thinner. My classic rectangular body that goes with my classic, style has disappeared.