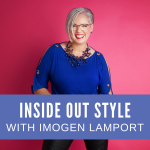 In This Episode
0.11 My problem is I find it hard to find tops to suit my X shape that are in natural fibres – tips on finding the right fabrics and clothes?
3.43 – If I'm purchasing a scarf for the average shape – what is the most versatile shape – square, rectangle or infinity?
5.42 – How do I have things in my wardrobe that I can swap and change and mix together?
Finding the Right Fabrics
Ways to Wear a Scarf
Wardrobe Capsule
If You'd Like to Define Your Style and Discover Your Colours
If you're sick of wasting money on clothes that don't work and you know there is a better way, then join my 7 Steps to Style program and get the right information for you and your style.
Subscribe to my Podcast
You can now get these videos as podcasts subscribe and never miss an episode
Send me Your Questions
Please email me your questions to be included in my Q&A Lucky Dip!