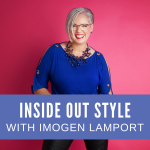 In this Episode
0.11 If cools can wear all the blues – what can warms wear all of?
2.32 How to use prints and patterns when you have a low colour contrast and don't want a hero print but want to put it in a capsule?
5.36 What to wear to exercise in when you have warm light colouring, don't want to draw attention to yourself and everything is black and fluro?
Orange – the colour that Cools Can't Wear but Warms Can!
Prints and Patterns that Aren't Heros
Exercise Clothing
Sportswear that Isn't Black and is Stylish, Mission Impossible?
If You'd Like to Define Your Style and Discover Your Colours
If you're sick of wasting money on clothes that don't work and you know there is a better way, then join my 7 Steps to Style program and get the right information for you and your style.
Subscribe to my Podcast
You can now get these videos as podcasts subscribe and never miss an episode
Send me Your Questions
Please email me your questions to be included in my Q&A Lucky Dip!