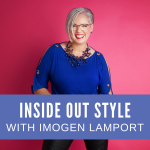 In This Episode
0.08 How to deal with seasonal colour changes which affect my contrast and ideal value?
1.41 What is a pastel
4.33 Where should statement necklaces sit on your balance point? Top, middle or bottom?
Ideal Value, Colour and Value Contrast
What's Your Ideal Value and How it Creates Balance in Outfits
How to Find Your Ultimate Colour Contrast – Your Three Step Process
Colour Properties – Pastels
Balance Points
Understanding Balance Points and How They Influence Your Choice of Neckline
How to Find Your Balance Points – For Necklines and Jewellery
If You'd Like to Define Your Style and Discover Your Colours
If you're sick of wasting money on clothes that don't work and you know there is a better way, then join my 7 Steps to Style program and get the right information for you and your style.
Subscribe to my Podcast
You can now get these videos as podcasts subscribe and never miss an episode
Send me Your Questions
Please email me your questions to be included in my Q&A Lucky Dip!