What are the keys to creating flattering outfits for the I shape body (otherwise known as the rectangle. celery, banana)?
The I shape has similar width hips and shoulders and doesn't have a particularly defined waist. It's a slim shape, with narrower shoulders and hips and the owners of them may often describe them as boyish. Though it's most commonly the shape of many models.
If you want all the details grab your Body Shape Bible here.
So when putting outfits together, you want to think about these key points:
1. Create Shape Using Horizontals
Adding horizontal details such as hip pockets or bust pockets will give your body the illusion of more curves.
You can happily choose tiered skirts and tops to add some interest to your outfits
2. Belt Voluminous Garments to Create a Waist
Want to create the illusion of a more waisted shape? Then add a belt, particularly with any voluminous garments.
3. Add Detail Wherever You Like
Add textural garments and additional details to draw attention and create focal points. You have the opportunity to play with clothing to create lots of different looks as many styles suit you.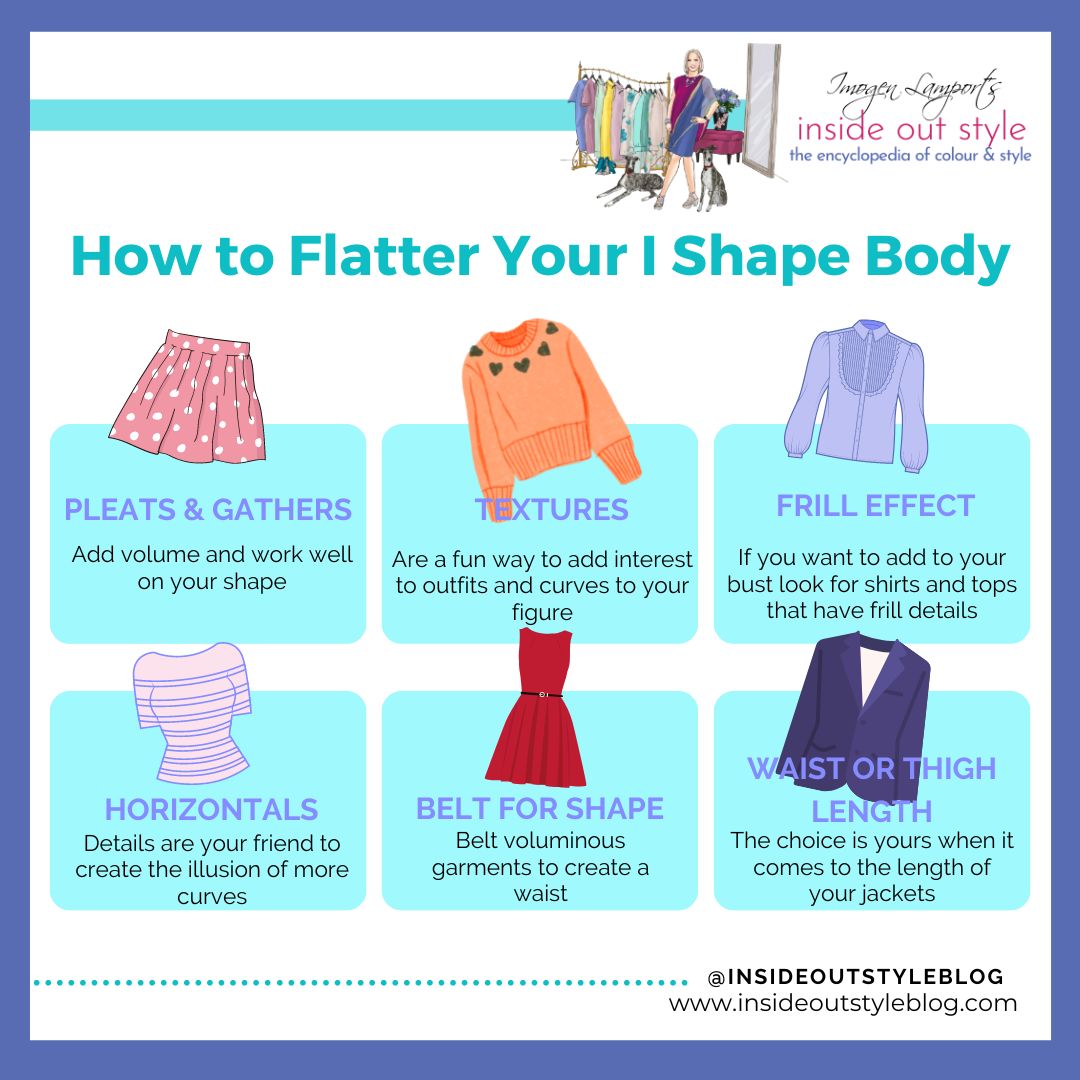 Outfit Ideas for the I Shape Body
With these simple guidelines in mind, you can play in your wardrobe and create stylish and flattering outfits.
Here are 5 outfit ideas for the I shape body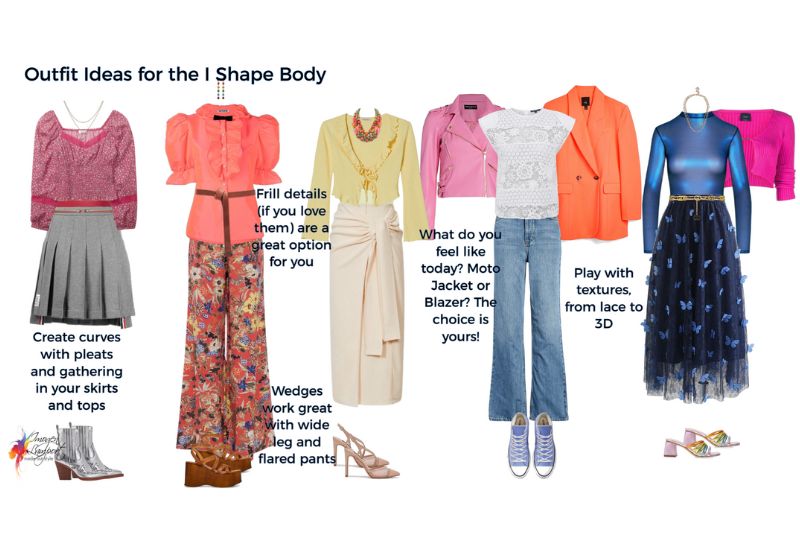 Look for pleats and tiers in skirts as they create curves. Pair with a blouse and boots for a modern look
Wedges are great with wide leg and palazzo pants, shirts and blouses with frills work well if you have a small bust.
Try wrap and sarong style skirts as they give the ilusion of more curves at the hips.
Pair a tee and jeans outfit with either a moto or boyfriend-style blazer, depending on your mood.
Look for textured garments, you can wear the cable knit sweaters and cardigans and a gorgeous 3D butterfly skirt, along with garments that have sheen and shine that most other shapes don't work so well wearing! Wear feature belt with your more voluminous clothes to create a waist.
Remember, you are more than just your body shape
Body shape is just one small part of what you need to know to decide what to wear. You also need to consider body proportions and body variations and you can then create your own figure flattery guidelines.
Discover Your Shape
Not sure of your body shape? Take my free body shape calculator quiz – instructions and quiz here. If you'd like my professional opinion on your shape, you can get it as part of my 7 Steps to Style System – which walks you through everything you need to know about flattering your figure, your colouring and understanding how to express your personality through your clothes and outfits as well. It's the full image program that will assist you in defining your style so that you can build a wardrobe full of clothes that you love to wear.
Further I Body Shape Reading