Do you have a signature scent or perfume? One that you're known for by those close to you?
How did you choose that scent? Was it the shape of the bottle? The smell? The promise of the advertising? The name of the perfume?
The Power of Scent
When you think of your personal style (which is an element of your personal brand) what you smell like is part of this equation. Scent is something that easily triggers memories and experiences (both good and bad), and most of us who live and work in close contact with others are aware how much the smell of others can impact on how we feel about a person (or being close to them). I know for me, I find it really hard to be near anyone who smokes, as their clothes, hair and breath all are permeated by the smell of cigarettes which I find most unpleasant. Or when you sit next to someone in a meeting and they have unpleasant body odour … or even when someone is wearing way too much aftershave or perfume it can be nauseating for those close to them.
How we smell impacts on others, as well as ourselves. And the perfumes we choose to wear communicate something about us and our personal brand. The different fragrance notes evoke different moods and emotions. Think about a zesty lemon – it's fresh and vibrant, lively and youthful, whilst the smell of sandalwood is much more grounded. mature and even a little more mysterious.
Creating a Signature Perfume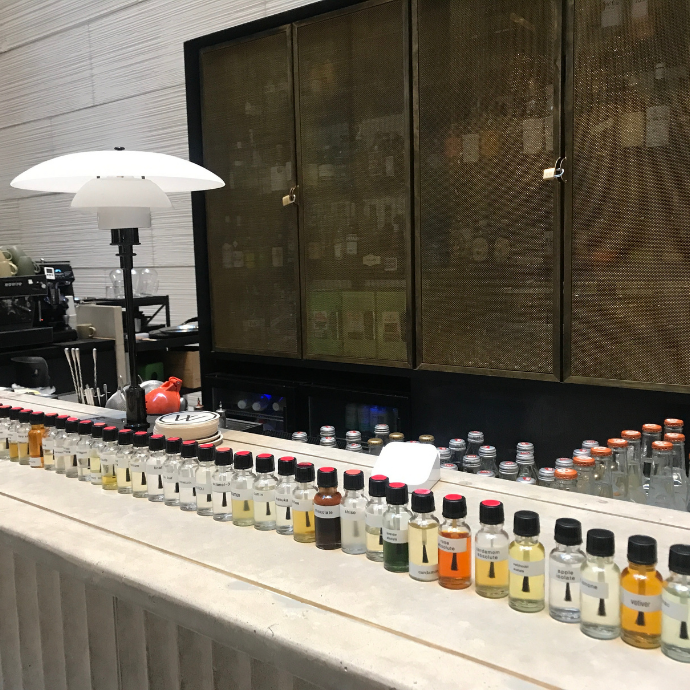 I had a fascinating experience recently, our local AICI Australia chapter (Association of Image Consultants International) spent a morning learning how to make your own signature perfume based using pure botanical essential oils (no synthetics), resins, isolates and compounded natural isolates at a workshop with Perfumier Samantha Copland of Perfume Playground. In this workshop we learned about the three main elements of any perfume, the base (which lasts the longest), the middle or heart and then the top note (which has the shortest life but is what you smell with that first spray). Top notes have a light molecular weight and high volatility which is why they don't last long and include citrus and herbs. Whilst middle notes which have a longer life span a medium in molecular weight and volatility and include florals, fruits and spices. Whilst the longest-lasting base notes have a heavy molecular weight and low volatility and are what you smell hours after you first spritz on your perfume and are made from woods, musks and resins.
During our workshop we got to select from a huge variety (over 30 of each) top, middle and base notes to use to create our own signature perfume and it was a really interesting process. I thought I'd be overwhelmed and not be able to choose, but using my intuition I chose the scents that really appealed most to me.
Once I'd selected my base, middle and top notes, I then learned how to blend them together to create the right balance of each. This was a fascinating process as we experimented with different ratios of each of our ingredients and when we were happy with our blend we bottled it to take home.
What I found really surprising was that nobody in our group used any of the same ingredients in their perfumes. We each were drawn to different scents and scent combinations that ended up creating unique perfumes for each of us. We got to smell and experience each other's perfumes and they really did fit the personality of the persona who made it. It was intriguing to see just how each of us intuitively selected scents that were a smell-expression of our own unique personalities.
What's in my Signature Scent?
I'm going to start with my base note, as it lasts the longest It had to be something I loved the smell of:
Benzoin Resin – it's obtained from the bark of a specific type of tree and has a smooth and vanilla-like smell.
Then my middle or heart note:
Chocolate – I'm a serious lover of dark chocolate and this seemed very fitting to me!
My top note:
Pink Peppercorn – which has a fresh spicy smell and gives the perfume a sparkling element. It's a little unexpected and has a vibrancy, just like me!
This is a simple perfume (most commercial perfumes have multiple base, middle and top notes) but its beauty lies in its simplicity for me.
Now that I have my own unique signature scent, that is truly me, and one I'm really enjoying wearing it as it's like wearing a piece of clothing that has been truly tailored to fit you, from fabrics that are in your ideal colours, favourite patterns and that really are an expression of your personality. You feel totally at home in those clothes as you do in your own signature scent! This is why I'm passionate about educating you to define your own style with the tools I teach in my 7 Steps to Style program as then you feel more confident and courageous as what we see on the outside is a true expression of your inner brilliance.
Scent as an Expression of Personality
Have you thought about your own relationship to perfumes? If you want to know more about this topic you may be interested in reading this article that relates the different kinds of scents to personality types.
Design Your Own Signature Scent
If you're in Melbourne or Auckland (New Zealand) Perfume Playground run workshops just like the one I attended where you can get to experiment and play with a huge variety of fragrances and put togehter your own signature scent. Find out more here.
They also do virtual/online at pre-recorded workshops with 'solid scents' that you can experience from home.