Reader Question – How do you wear medium value colours when you have high-value contrast and dark ideal value?
Just a quick note if you're new to Inside Out Style and have never heard of the term "value" with regards to colour, the value of the colour just means how light or dark the colour is. So a dark value is a dark colour, and a light value is a light colour and a medium value …. well that's a medium colour!
Medium Value Colours
Everyone can wear medium value colours. Doesn't matter if you are light or dark in your colouring, as medium works for all colouring (phew).
Now if you have dark colouring (so dark hair) and have fair skin, then you have a high-value contrast (that's the difference between the lightest and darkest elements of your colouring) and look better in outfits that are a combination of dark and light together.
So how about wearing those medium colours?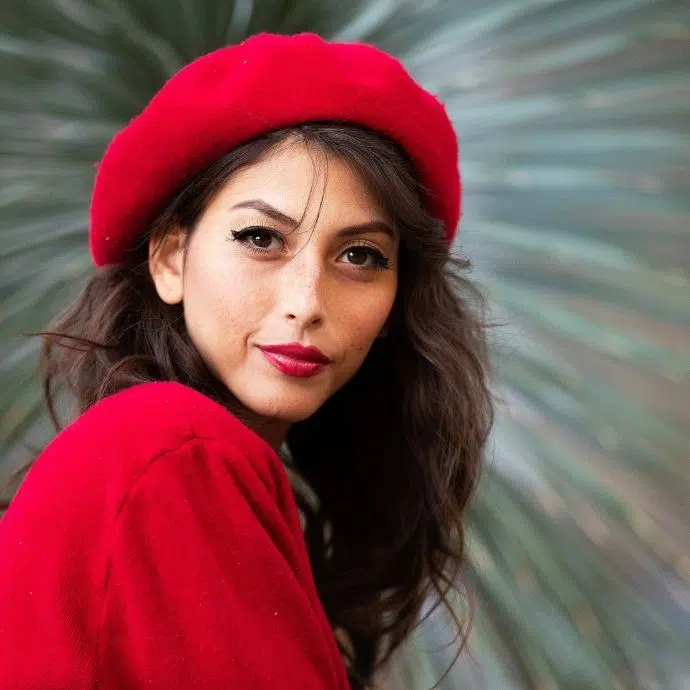 Here's a good example – this dark value woman (dark hair) wearing a red outfit (medium value) it works well as medium value colours tend to stand out and naturally provide contrast with the hair and skin.
As long as the medium value falls at the slightly darker end of the medium rather than the lighter end of the medium, it can work really well if you're just wanting to wear one colour (rather than more than one colour/neutral in your outfit).
For example, someone with a dark ideal value can wear an orange dress as long as it's a dark orange rather than a light orange. A very light orange top will suit your value contrast when paired with a dark pant or skirt but not work well as a dress or head to toe outfit.
If you were light value (fairer/blonde/lighter grey hair) you too can wear a medium value colour easily.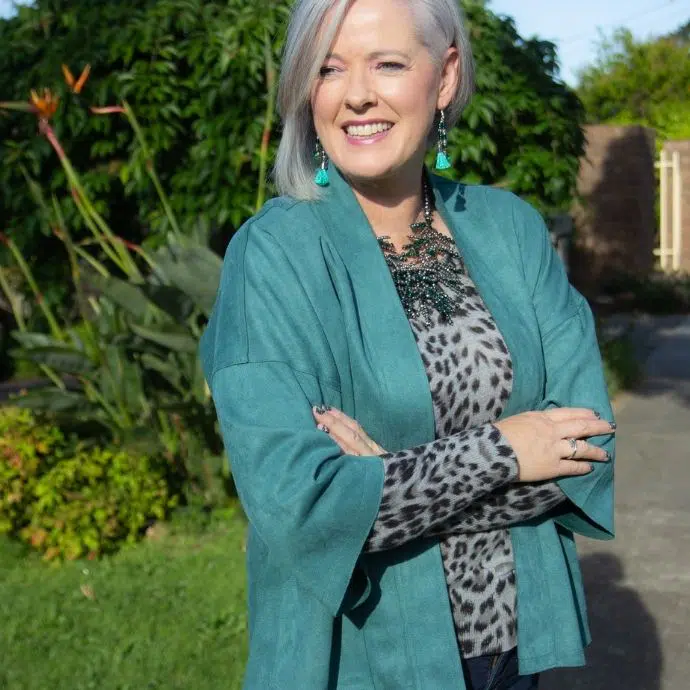 Still confused? I know it's a complex topic that you never read about in fashion magazines so please do let me explain…
One of the other most important elements to ensuring you are wearing combinations of colors or prints that suit you is your value contrast.
Value Contrast
Value contrast means the difference between the lightness and darkness of the colours – white to black; ice blue to navy; lightest pink to darkest burgundy
A high value contrast is when there's a big difference between 2 colours. The light colors are very bright, and the dark colors are very dark. The high intensity of the colors creates a strong impact.
A medium value contrast is when there is an obvious difference between 2 colours. This can be created between a medium colour and either a light or dark colour.
A low value contrast is when colours are a similar depth to each other and seem to blend together. If it were a photo and you took the colours out of the photo – the shades of grey would look the same or very similar.
Making Your Value and Value Contrast Work
Your ideal value is the value, the lightness or darkness, of your hair. The colours that are most similar in value to your hair, will be the easiest to wear in large blocks next to your face as hair is really what we notice about someone as it frames your face.
Your value contrast refers to the relationship between the light and dark areas of your hair, skin, and eyes.
If you have a high value contrast, then you need to wear both light and dark colours together in every outfit. However, your darker ideal value will look better with a medium to dark value right next to your face than a light value.
You want to think about the 60/30/10 proportional rule for using colours – 60% in ideal value, the same value as hair, 30% in skin value and 10% accent, typically the value of your eyes if they are significantly different to skin and hair values.
Remember, you don't have to create the value contrast with the clothes. You can just use an accessory or in summer with your skin to create that value contrast. A necklace or scarf that's got some lightness in it will create value contrast. A necklace or scarf that's got some lightness with a dark background will also suit your ideal value.
So wear that medium value colour with something dark if you want! Add in a pop of something light if you want to create your optimal value contrast too – remember it only needs to be a small accessory, not necessarily a whole garment to work!
Get Your Style Fundamentals Sorted
If you're feeling a little overwhelmed by value and value contrasts and have realised that you just don't have the style education you need, you can get my professional opinion about your colouring, value contrast and ideal value in my 7 Steps to Style program. The program will teach you the science and art of colour and style so that you are empowered to make great style decisions and stop wasting money on all the wrong clothes. Find out more here now.
Related Reading