How to choose the right eyeshadow colour to enhance your eyes – the ideal colours make your eyes pop and look brighter, and their colour more intense. In this video, you'll discover my tips on finding the most flattering eyeshadow colours for your eyes and see my warm and cool eyeshadow palettes that I use with my clients in their personal colour analysis consultation.
Finding the Ideal Eyeshadow Colours
Use your colour palette (from a personal colour analysis) to help find the ideal colours – if the colours in the palette work with the eyeshadow colours – then they are likely to be a good choice. Eyeshadow and makeup is usually softer in intensity than the colours you may wear, so as long as the eyeshadow colours blend with the undertone of your colour palette (and if you haven't got one, you can get one as part of my 7 Steps to Style program), then you're on the right track.
Use the colour wheel and colour relationships (which I've written about here) to find colours that intensify or brighten your eye colour. Going across to the complementary and then around to the triadic colours from your eye colour (as demonstrated in this video) is a way to find colours that will make your peepers pop! Love to have your own version of the one I'm holding in the video? This is a tonal colour wheel and great for choosing makeup – you can find them here.

Warm Undertone Eyeshadows

Blue eyes: Bronze, Gold, Brown
Brown eyes: Olive Green, Gold, Bronze, Coral
Green eyes:Violet, Bronze, Camel, Brown
Hazel eyes: Mauve, Bronze, Camel
You can also use your eye colour in a dark version as an eyeliner. But be careful of using your eye colour as a shadow as often your eye colour will be softer and more muted than the shadow, and then the shadow overshadows your eye colour, rather than making your eyes pop -your shadow pops instead.
Cool Undertone Eyeshadows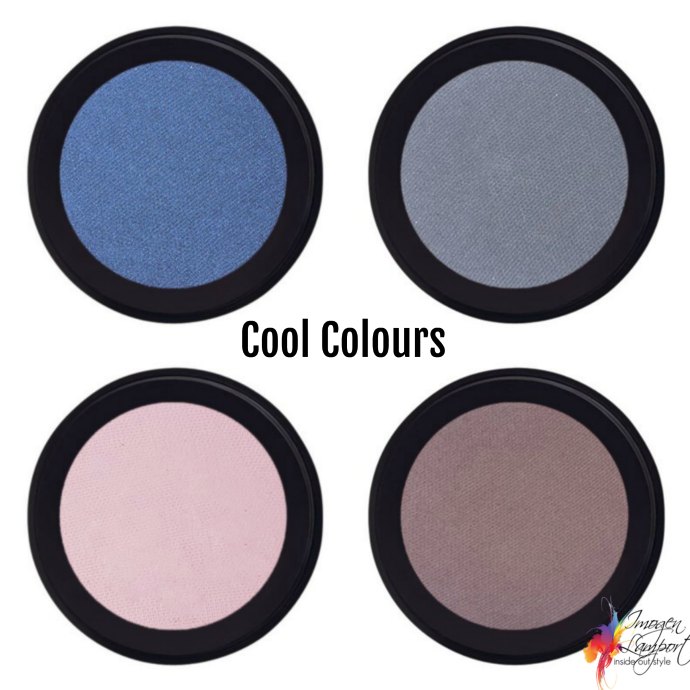 Blue or Blue/Grey eyes: Pink, Cool Brown, Grey
Brown eyes: Blue, Navy, Silver, Pink, Forest Green, Teal
Green eyes: Lilac, pink, Cool Brown
Blue/Green eyes: Pink, Cool Brown, Navy or Deep Teal as an eyeliner
So there you have it – your cheat sheet for selecting the eyeshadow colours that will flatter your eye colour and make them pop – as the eyes are the window to your soul!