Do you have a hobby or some sort of activity you enjoy doing? What is it that you enjoy? There are so many different sorts of hobbies – from the physical (sports, golf, rock climbing, hiking, skydiving, yoga. etc) to the home-based (gardening, cooking etc.) to the social (dancing, Italian conversation classes, chess, mahjong etc) to the creative (painting, drawing, acting, sewing, knitting, crochet, sculpting, woodwork etc.)
I'm pretty sure that understanding colour and style, creating outfits and discovering your style is a hobby that many of you may have, not a traditional hobby, but it could be classed as that none-the-less.
So given that colour and style are my work, what are my hobbies?
For many years when my kids were younger, hobbies went out the window – there just wasn't time for them. But as they've grown up to teenagers, I'm now getting more time back for myself, and I know for my own mental health that I have to avoid working on weekends as otherwise my brain just doesn't get a break. You see, I spend a lot of time in my own head and it's good for me to get out of it.
How do I do this?
Some physical exercise – I enjoy some yoga and was running (up until I injured my toe) so now take nice long walks instead. When I could I'd tap dance, (sadly I can't find a class anywhere near me at a time I can do around my daughters non-stop (if feels like) gymnastics classes), I did.
One of the things I enjoy doing that gets me out of my head is some sort of creative art therapy. I've done a few classes in fused glass (high recommended) but that's not something I can easily do at home on the weekend when I have a couple of hours spare.
I do enjoy making some jewellery (beading) and also have gotten a little into knitting and crochet (particularly in the cooler winter months, but don't like them in summer). Recently I've gotten out the sewing machine more and started making a few more clothes (to start with because I was so annoyed that I couldn't find a skirt I liked in a fabric I liked that was the length and shape I wanted), and also as a way to create some unique pieces for my wardrobe.
Paint By Numbers Review
Over Christmas, I was scrolling through Facebook and some "paint by numbers" kits came up and I thought that this could be a bit of fun and relaxation for my brain, so I ordered one.
It arrived and I got to it and found it a brilliant way of relaxing my too-busy brain. The methodical nature of it meant that there's no over-thinking involved and I enjoy the way the picture gradually appears.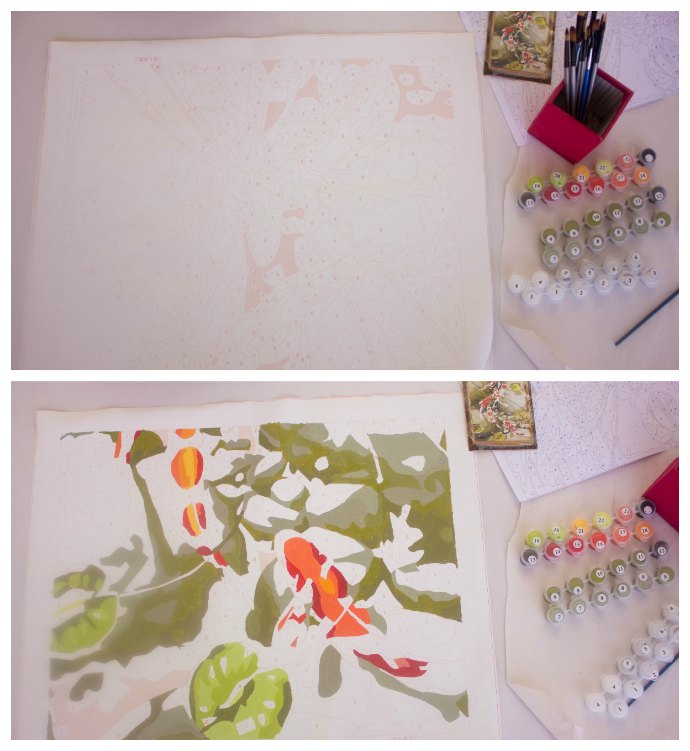 What I enjoy about doing it is that it's easy to pick up and leave so you can do it in short bursts, no need to put hours aside (in the way that sewing usually needs a bit more time).
So what are the results like?
My experience is (after doing only 3) that it varies, depending on the complexity of the pictures and the style of the artwork and the paint colours sent.
For example, one of my first attempts was this still life vase with flowers. In your kit, you receive the canvas that has all the numbers printed on it, and a set of paint (and a few brushes, though I recommend going and buying a few brushes from your local art store) plus a card with your design printed on it (this is the image on the left below).
As you can see, that my version (the image on the right) really doesn't look anything like the image on the left. It's certainly no exact replica. The colours are clunky in comparison, the image feels flat, and I ended up having to do some extra 'work' to the painting to give it more depth and definition. But then, I'm no painting master, no Van Gogh or Monet, so I can't expect that my paintings will actually turn out like those originals!
But if you look at it by itself, imagining not having seen the "photo original" It's not too bad.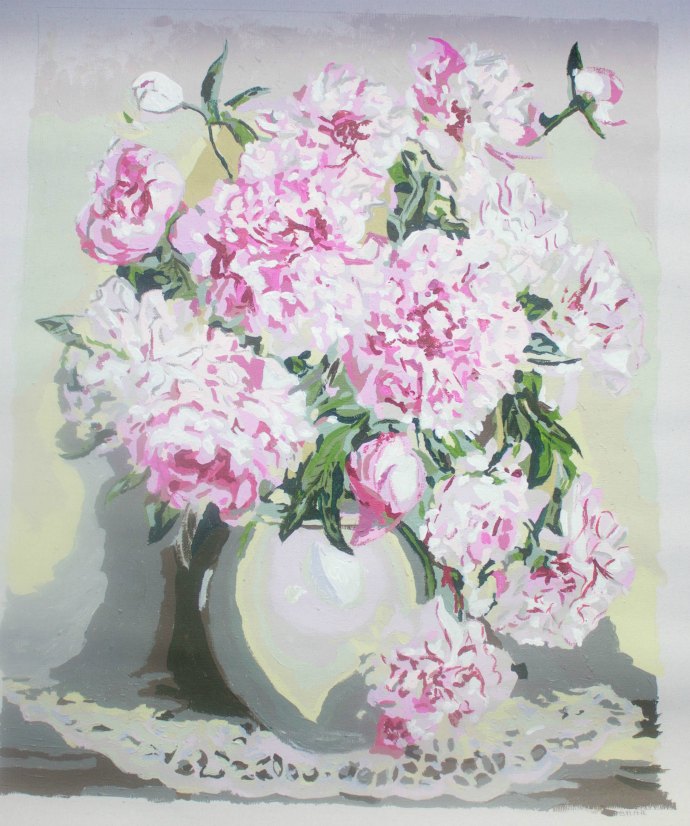 So for my next attempt, I thought I'd get set that had a more simple image that needed more block colours rather than blended colours, so I went for this three-part koi pond. When this kit arrived the canvases had been folded (some are rolled) for shipping, so I ironed out the creases before I started painting.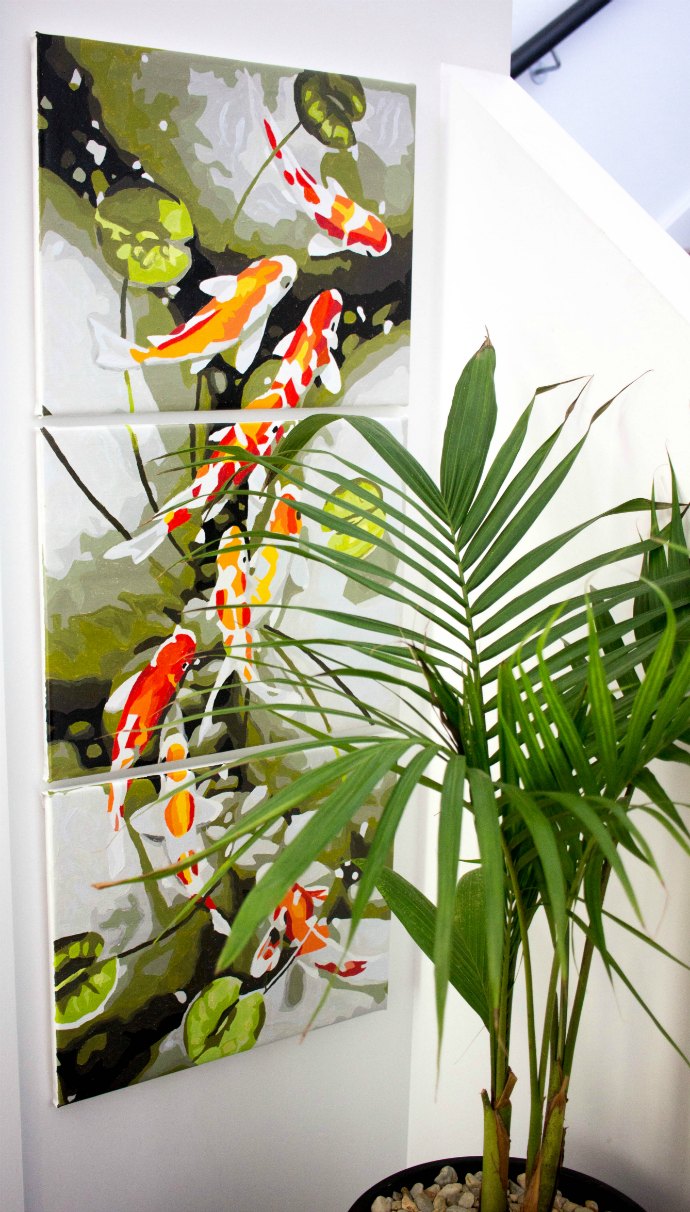 Once complete, I made a simple wooden frame to wrap the canvas around and hung them in my front hallway (behind the pot plant, so you can't look too closely).
One thing I do once I've "finished" the painting by the numbers, is that I will blend some paint colours together to create a new colour that may soften off edges or help transition one colour to the next so it doesn't look quite so "paint by numbers".
For me, paint-by-numbers is an easy way to get into a meditative state and really helps me to empty my mind.
What are your hobbies? How do you de-stress and decompress?