I've recently gone back to the very beginning of my blog to improve on all the old posts.  In fact, I realised doing this recently that it was coming up to my 9th Blog Birthday and I thought about how to celebrate it.
Now today is my 9th Blogiversary and as I wrote about here, it's a labour of love and passion and has become almost a full time job for me!
I want to thank you all for reading, commenting, sharing and asking questions here as without you and your interaction, I'm sure I wouldn't keep writing it!
And because I really appreciate you all for stopping by, I want to offer you a present, and that's a discount off my 7 Steps to Style program – now is the time to buy!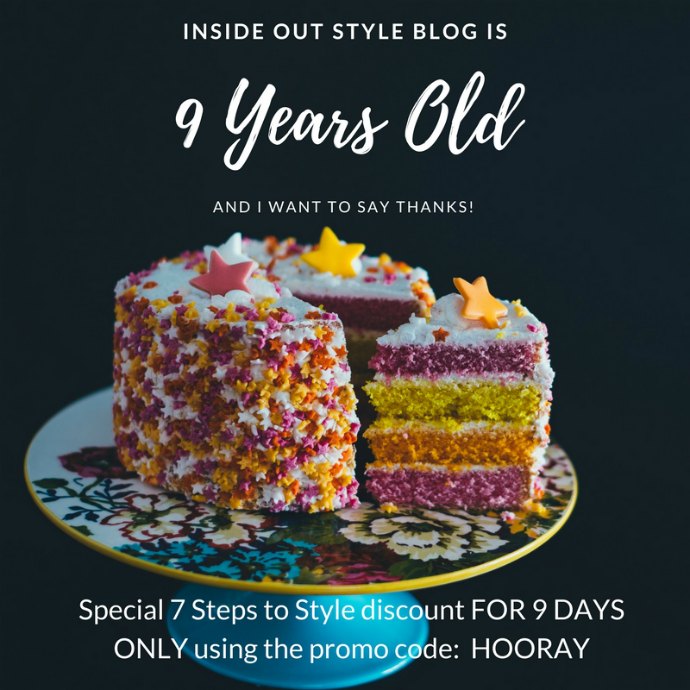 For the next 9 days (because Inside Out Style is 9 years old) you can get a $30 discount off the price of my premier program 7 Steps to Style.  This program is designed to help you really discover your style, from the soles of your feet to the top of your head (plus what's on the inside as well as how you look on the outside).
With modules on Body, Colouring, Personality, Wardrobing, Lifestyle, Shopping and Developing Your Style you will get a truly holistic and rounded program that will assist you in bringing out and showcasing the best, most stylish version of you.
It doesn't try and force you into a box that doesn't ever quite fit or feel right.  Instead it's about freeing you to discover your authentic style from the inside out.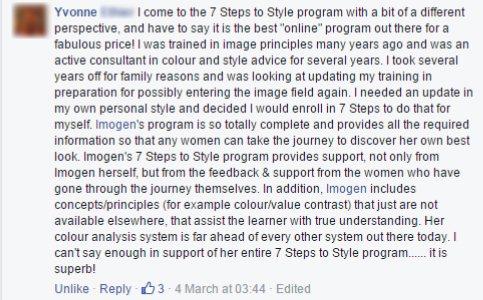 This program is part DIY (you get lots and lots of manuals and videos to watch, as well as webinars on each step) and partly my professional opinion on your body, colouring, face shape and those things you just need an objective eye to confirm, as I want to make sure that you're getting the right information for you.
There is an optional Facebook group for this program (and it's totally optional, as I know not everyone uses Facebook), but the feedback there is that they LOVE it and find it an incredibly supportive environment where the participants really learn the why and how of what suits them with fabulous feedback from truly amazing women from all over the world who are on the same journey.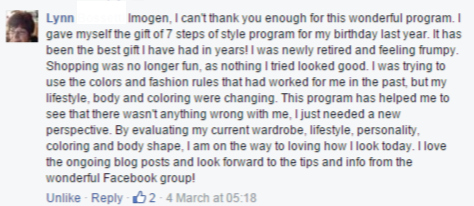 If you've been thinking about joining the program, then there is no better time than now as it's a rare opportunity to grab it on sale!  
You can choose from one upfront payment, or a 3 month installment plan, whichever suits your budget best.
Inside I teach you your rules and guidelines on colour and style, plus help you really get to know yourself and how you want to reflect who you really are through your style.
Plus when you purchase 7 Steps to Style ($386 value for only $267 using promo code HOORAY  with all the bonuses, including you get my 31 Day Style Challenge – Evolve Your Style (which has just been updated!).
Speaking of Evolve Your Style, as I've been upgrading it, the price is set to rise in 9 days – so grab it now for $10 (no promo code necessary) as after this promotion it will be $25!
You have until Midnight Sunday 27 August 2017 to take advantage of these special offers!
Thank you for coming around here, reading, commenting and sharing my posts as these are some of the best presents you could give me!