A new and exclusive to the National Gallery of Victoria, an exhibition celebrating 70 Years of the House of Dior opens today in Melbourne and having seen it, in my opinion, it's the best fashion exhibition they've ever curated.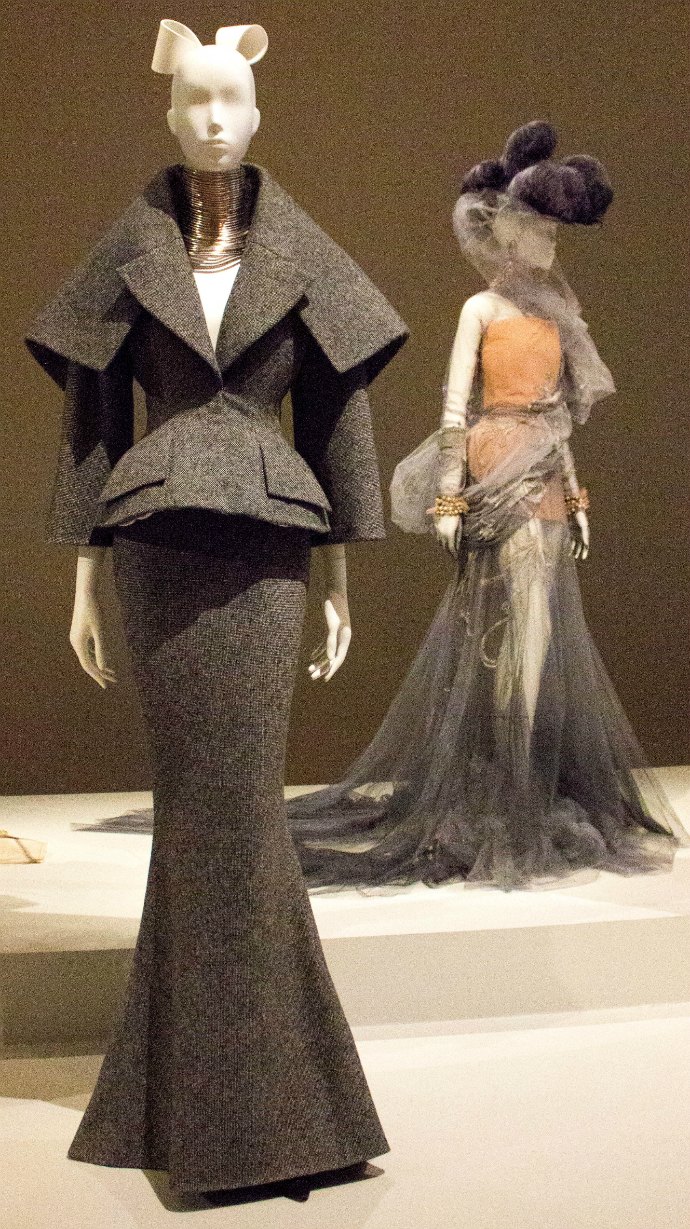 Christian Dior was a designer, entrepreneur and visionary who made a lasting impact on mid twentieth-century fashion and culture. Growing up he had an interest in architecture and art, in fact he opened an art gallery with Pierre Colle in the early 1930s and had creative connections with Salvador Darli and Christian Berard that remained key throughout his life.
He was encouraged by a friend to try his hand at fashion sketching and worked for stints as fashion illustrator for local couturiers, milliners and newspapers and was hired in 1938 as a design assistant for fashion house Robert Piguet. By the time the war was over Dior was employed as a designer at Lucien Lelong, the largest and most prestigious couture house in Paris at that time.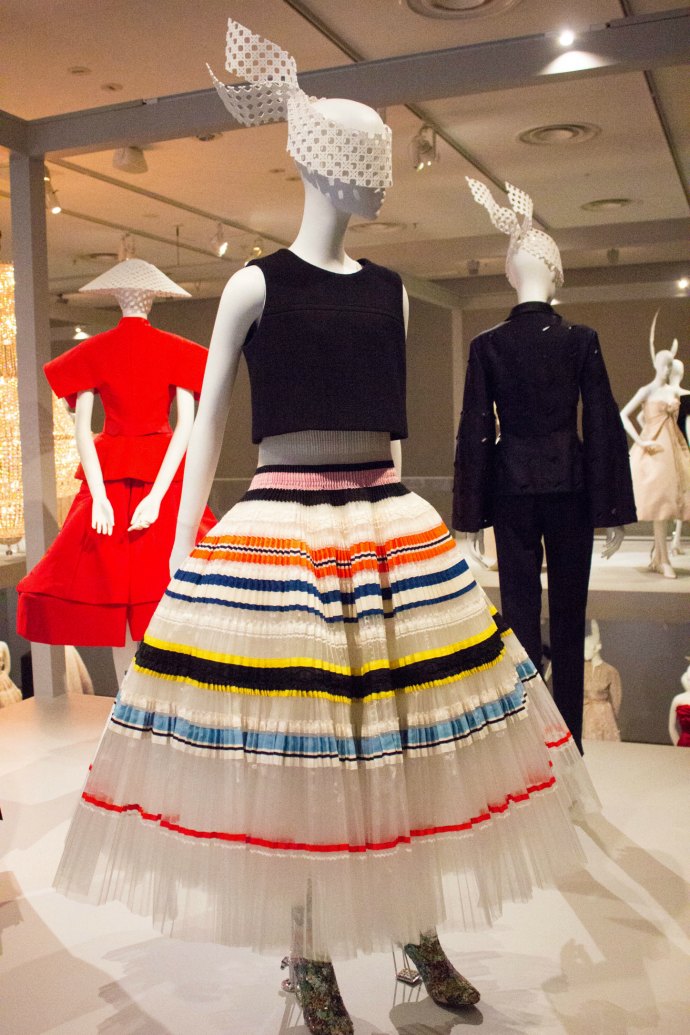 Founding his couture house at age 41 in December 1946 and presenting his first collection in February 1947 he reinvigorated an ailing postwar French fashion industry.
No ordinary small business, powerful textile industrialist Marcel Boussac funded Dior to open his own house which he did at 30 Avenue Montaigne along with 90 staff. After years of wartime hardship in France, the arrival of Dior had all the ingredients of a fairytale as invitations to his presentations for his collections were highly coveted.
The exhibition is split into multiple rooms which trace the journey of the house and it's 6 designers in the past 70 years.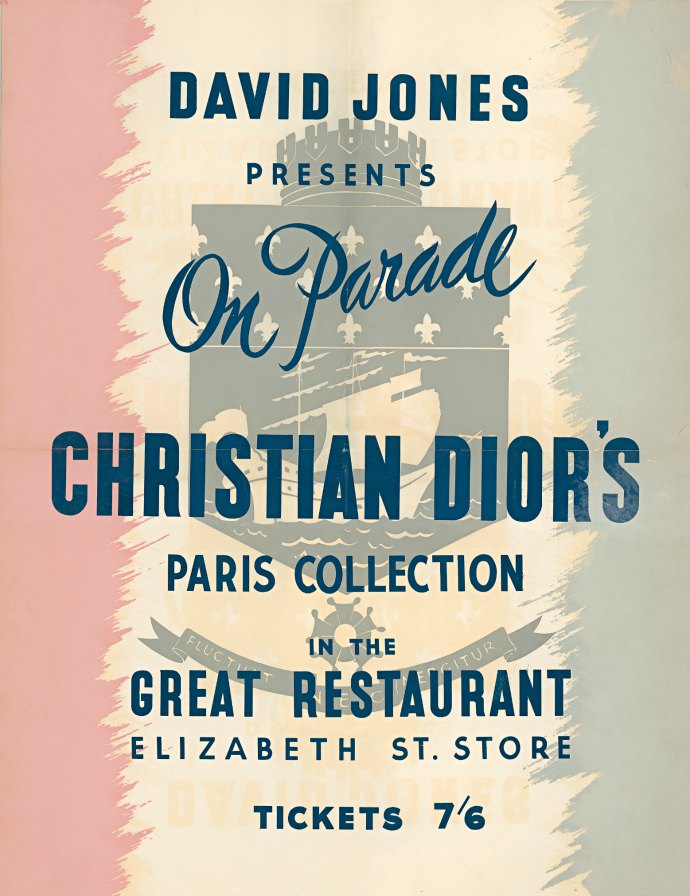 Starting with Christian Dior himself, we journey through his early collections, some of which were shown at our own David Jones in Australia, before being shown anywhere else outside of Paris.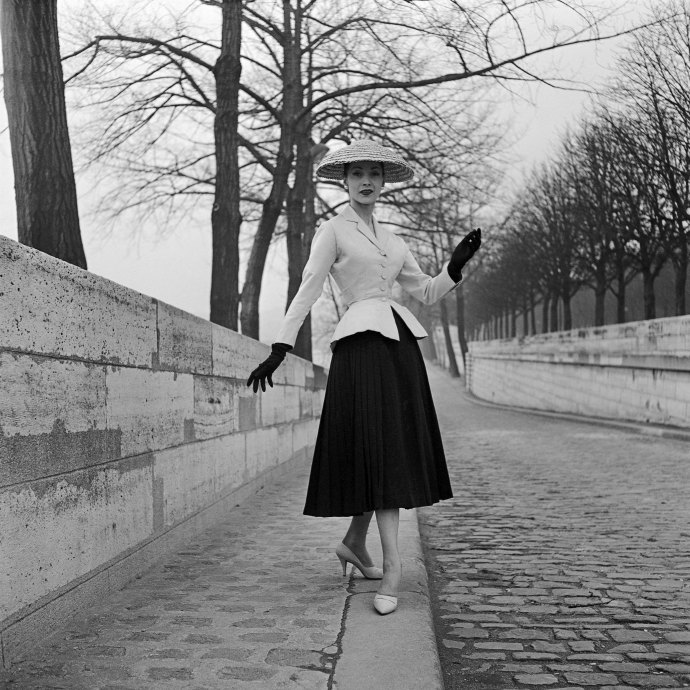 Starting with Dior's Bar, afternoon ensemble, from his first collection in 1947, this is the single most discussed and photographed work from Dior's debut collection with it's twelve meters of black pleated wool skirt, and sculpted cream jacket.
The name New Look which was synonymous with Dior was coined by American fashion journalist Carmel Snow as she declared after viewing the collection in 1947 "Dear Christian, your dresses have such a new look."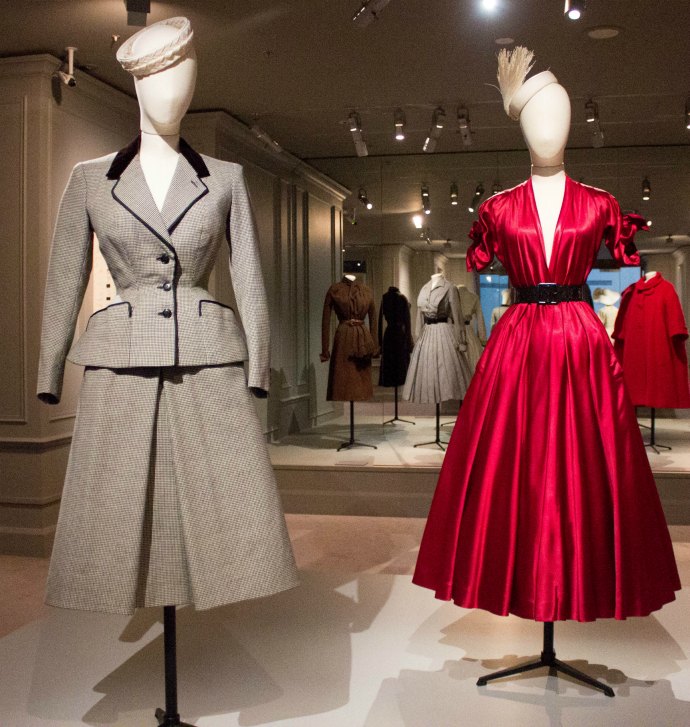 This New Look is a silhouette of rounded shoulders, exaggerated padded hips and full skirts made with an abundance of fabric.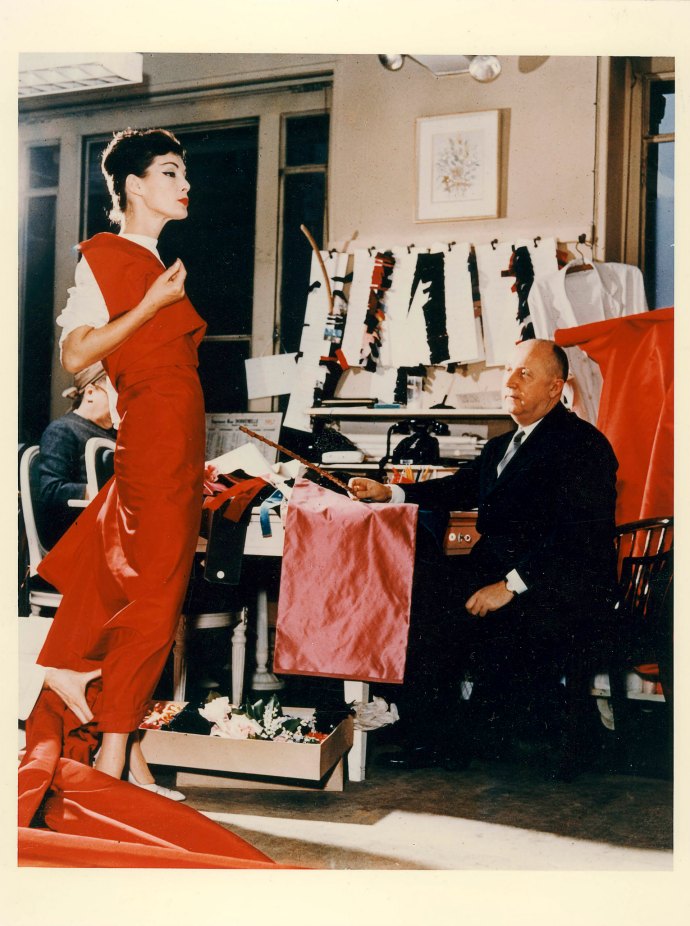 Dior maintained that "the suit is without doubt the most important piece in the female wardrobe" as it as capable of displaying as much technical prowess and fashionable appeal as a daring cocktail dress or a dazzling evening gown.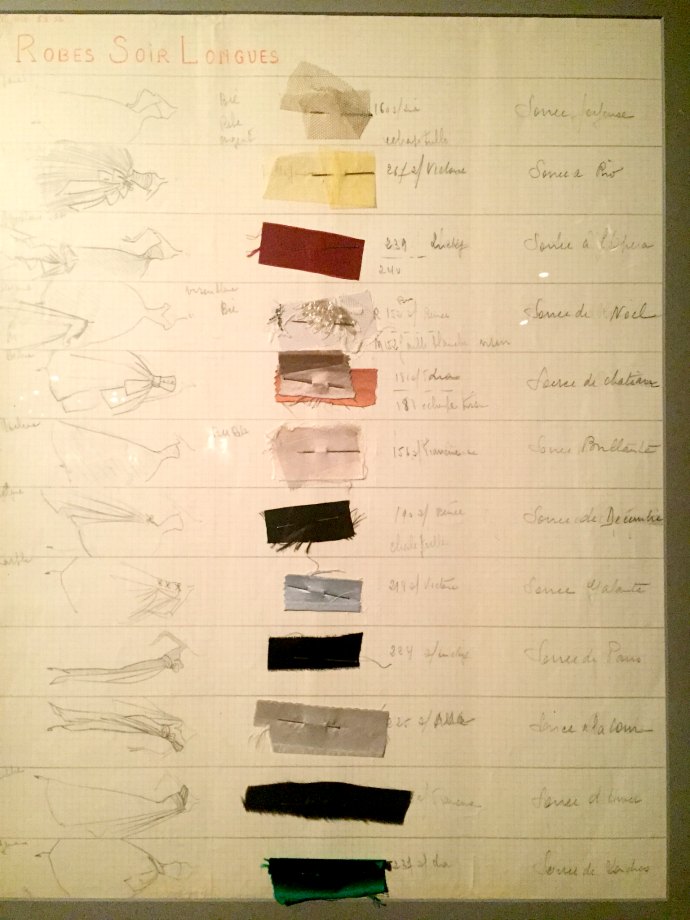 The first room contains Dior's 10 years of design (he died in 1957) from tea dresses to ball gowns and includes swatches of fabrics with designs from his early collections.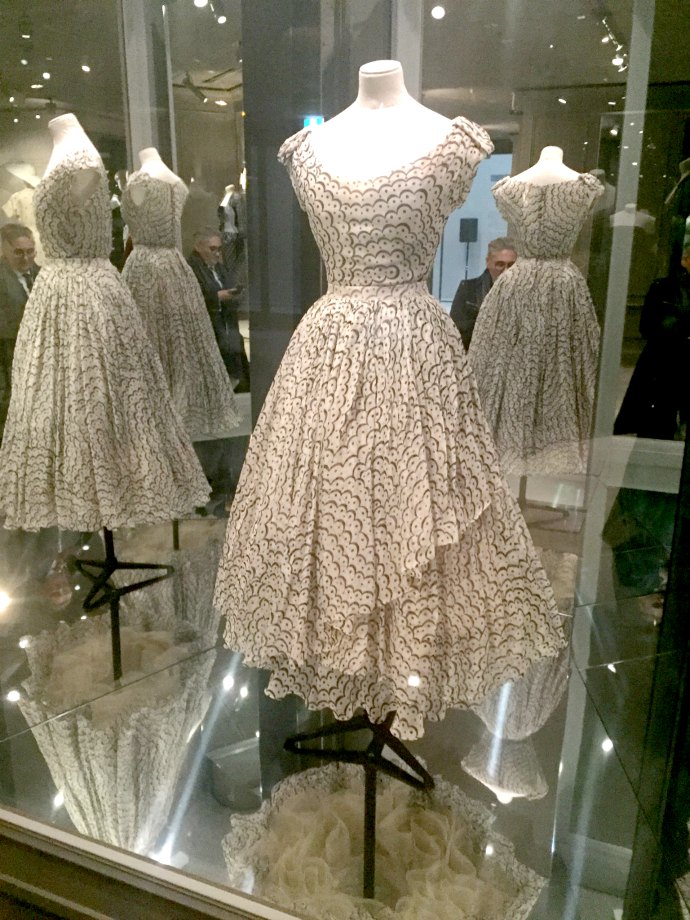 In this example of his New Look, this Mexico evening dress from his 1953 spring/summer Tulip line made from silk organza the construction created the movement and volume of its flower-like form and the dress was featured in both French and American issues of Vogue and worn by Mrs Wallis Simpson.
You then move through to the salon, with replica staircase as you would find in the current House of Dior in Paris, with two levels of divine haute couture to admire.
This section of the exhibition shows the four important themes that run through Dior's design.
The Line
During his ten-years, Dior designed 22 collections each numbering over 150 pieces. An ingenious designer, he continuously manipulated hemlines, bustlines and waistlines in the pursuit of new articulations of the female form.
The Flower
Christian Dior used the flower as an inspiration for the structure of his garments and as a motif for embellishment, richly decorating the surfaces of his fabrics. From exquisite embroidery on ballgowns and cocktail gowns, beadwork and patterns in floral motifs contribute a sense of beauty and extravagance to his work. The flower is still a recurrent theme in the designs created by the House of Dior.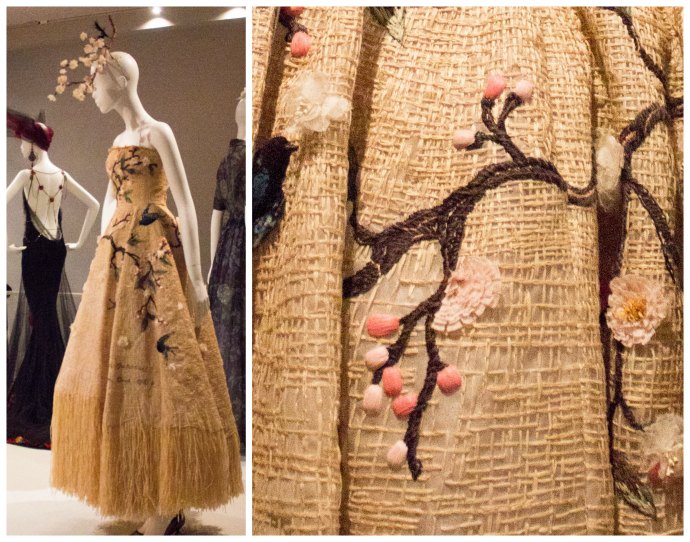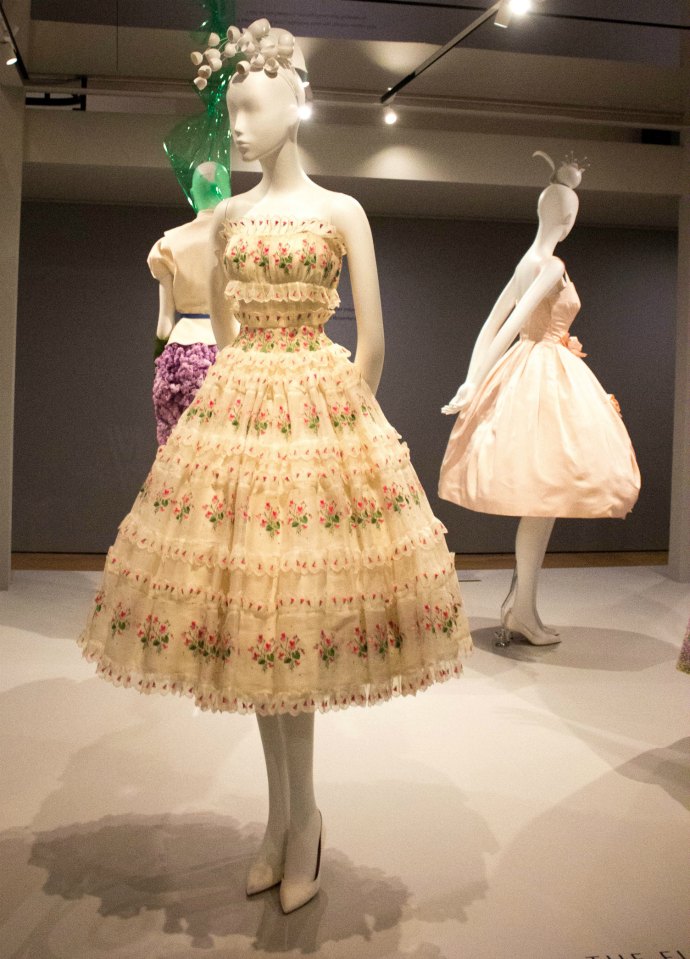 The 18th Century
Dior was enamoured with the art and history of the eighteenth century. He collected furniture and decorative arts of the period, referencing the era in the interiors of his fashion house as well as in the embellishments and lines of his garments.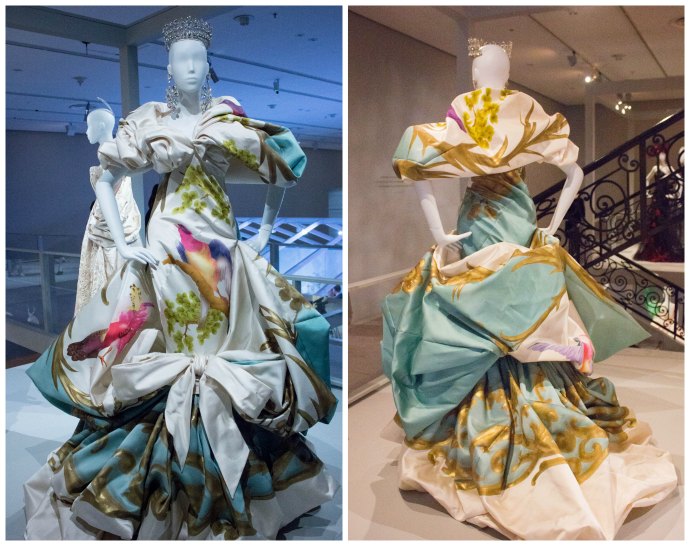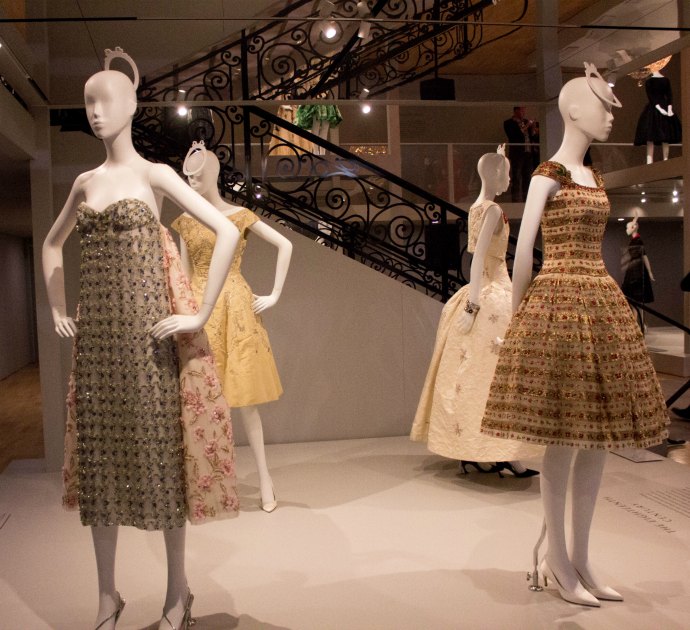 The New Look
Globally influential, the New Look celebrated femininity and elegance and was an optimistic embrace of fashion's capacity to present itself anew each season and this silhouette remains a compelling source of inspiration ever since.
The Atelier
Inside the Atelier you see the toiles and if you attend in either the first or last week of the exhibition, the people who work at Dior in Paris making these haute couture garments by hand.
A prototype made from unbleached cotton toile has always been part of the couture process. For Dior, they were a key means of communication with his workrooms, the toiles show the essence of a design, showing the line, fabric, bias , principal seams, balance and volume and allowing for correction before the final garment is made.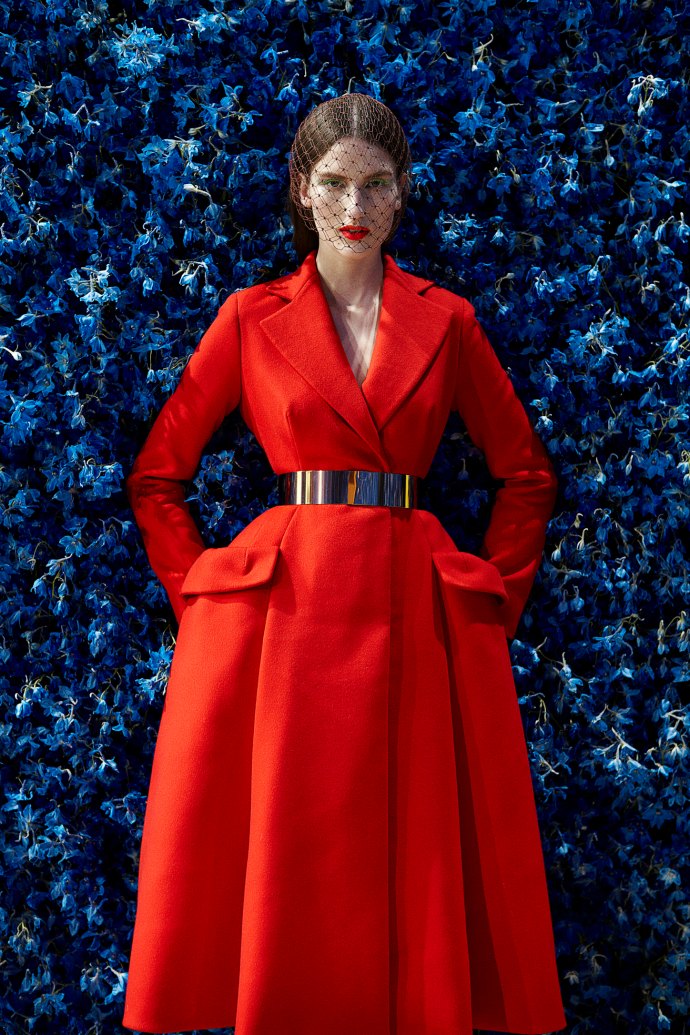 Today toiles remain critical to achieving the flawless fit and exacting finish demanded of couture.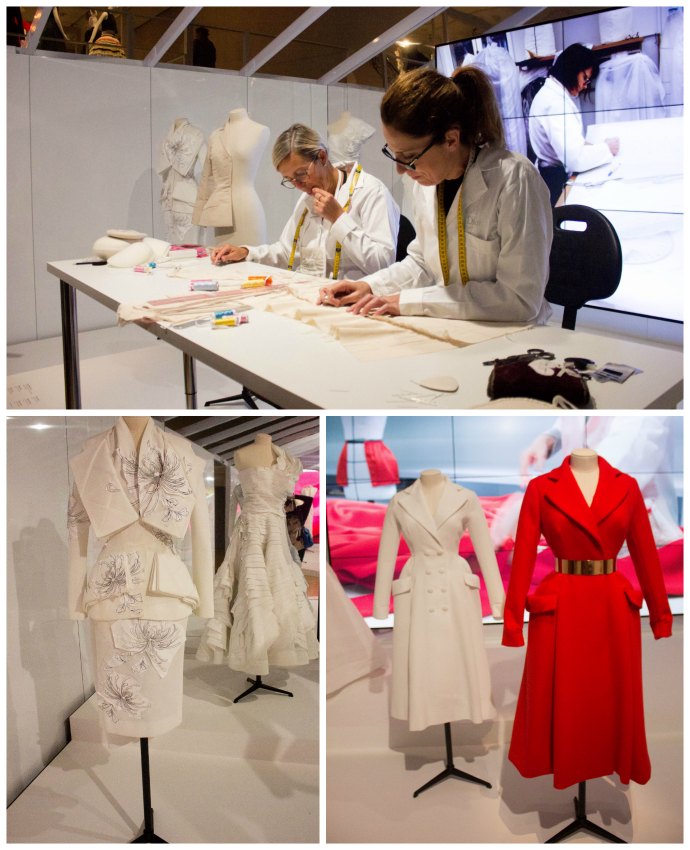 I was lucky enough to get to speak with two lovely women who work at Dior and who explained (through an interpreter) how they worked.
Here they are making a Bar jacket which takes 140 hours of work to create.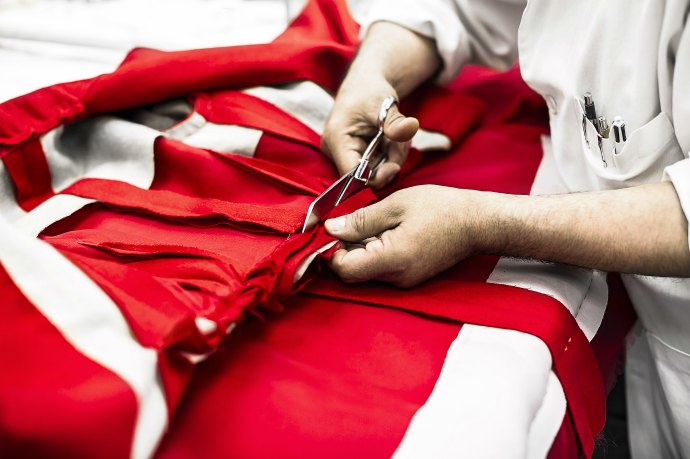 Normally only one seamstress works on a garment as each person has their own signature sewing style.
The Designers
Moving through this fascinating insight into haute couture production you move into the hall that celebrates the work of the other 6 designers, Yves Saint Laurent, Marc Bohan, Gianfranco Ferré, John Galliano, Raf Simons and Maria Grazia Chiuri, who have worked at the House of Dior.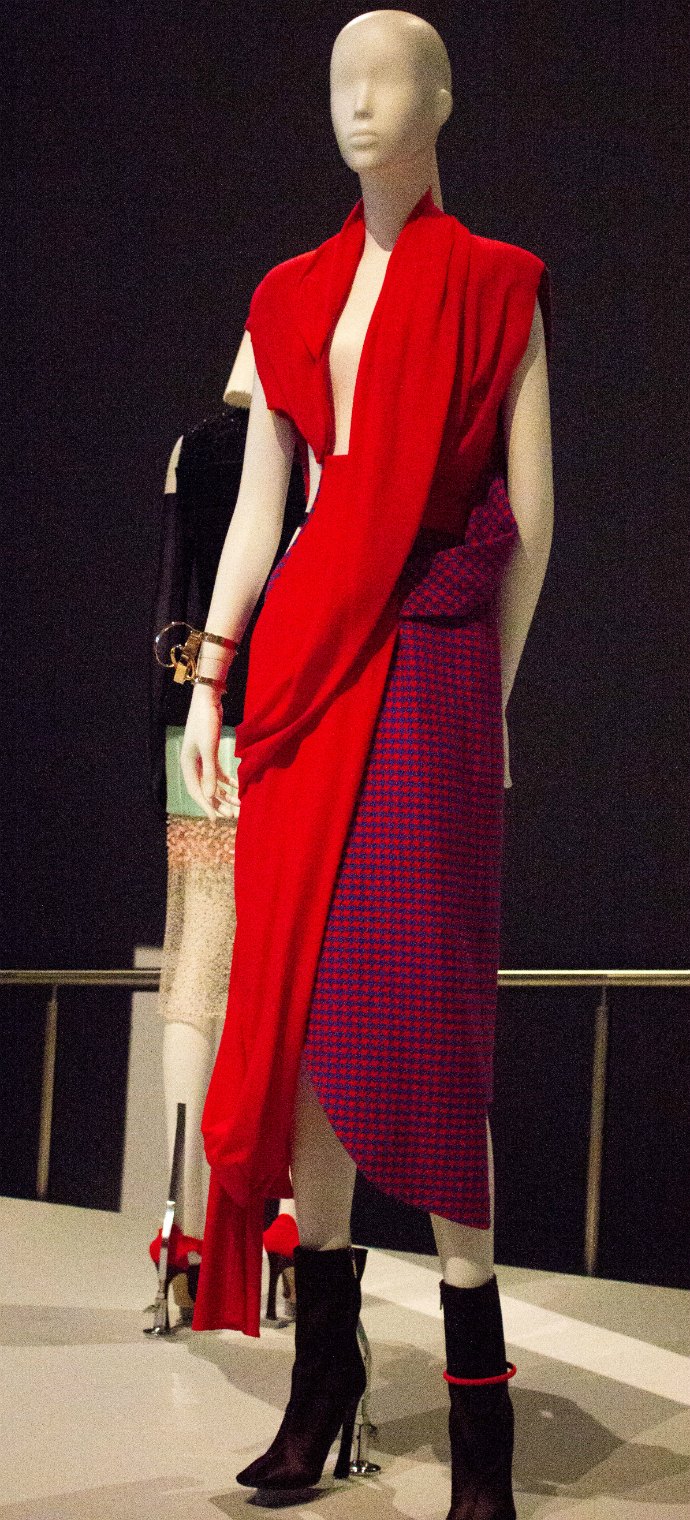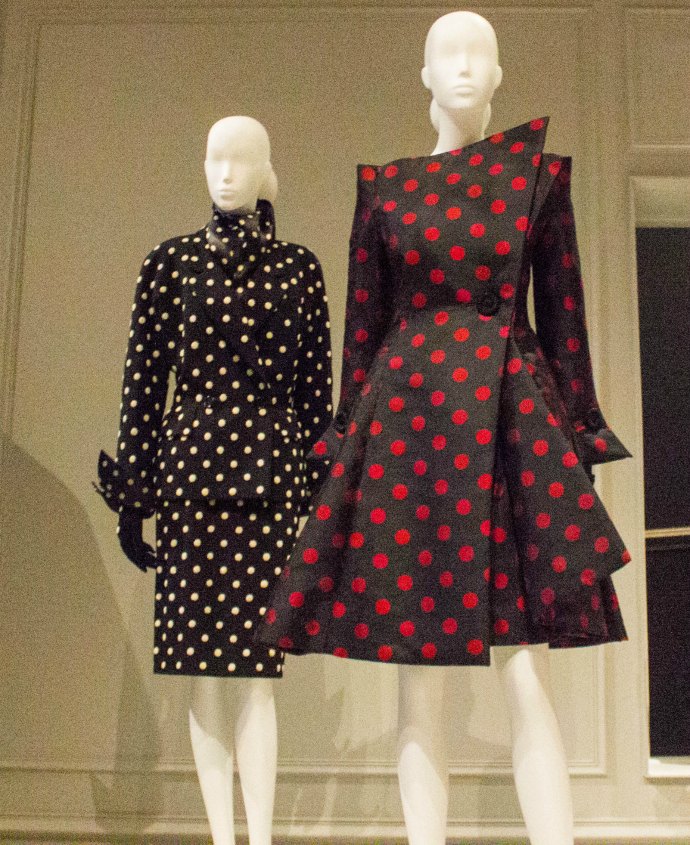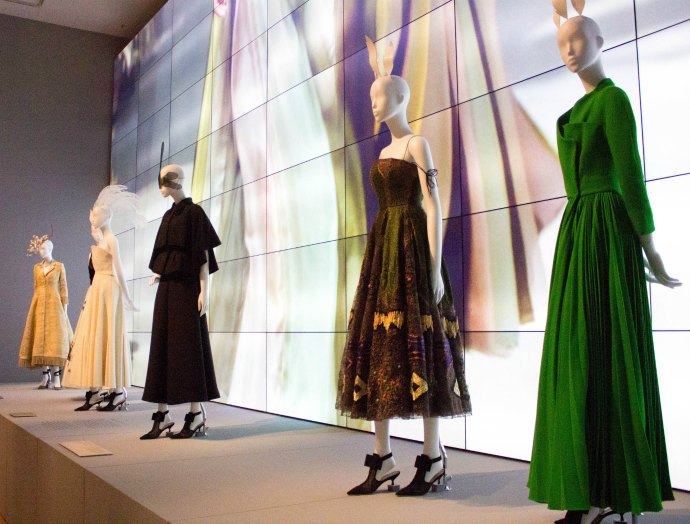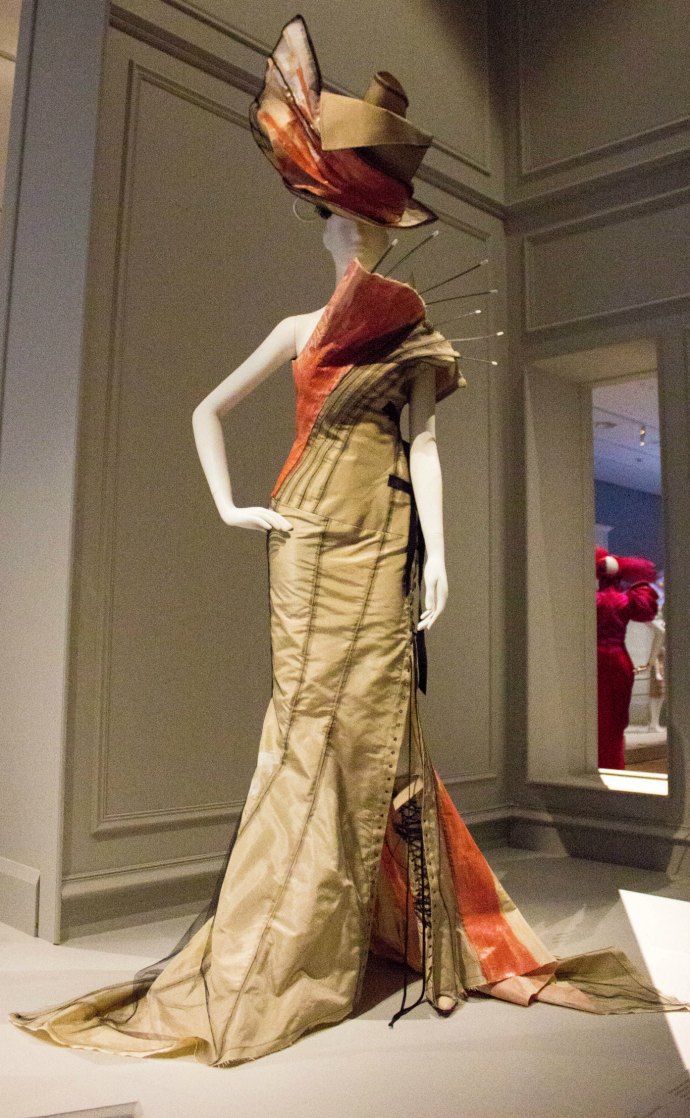 The Hats
Milliner Stephen Jones has created beautiful headpieces for the House of Dior for over two decades. His work is included in this exhibition plus there is a a room on the Dior accessories that include many hats and shoes.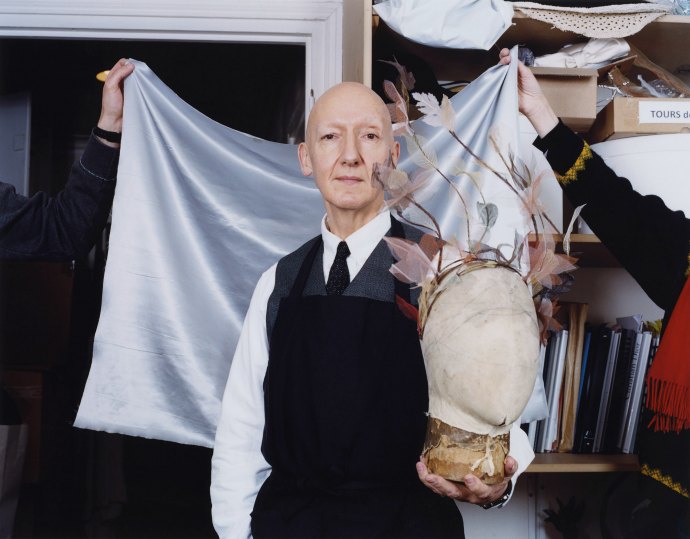 When pressed for his favourite hat, he said that this grey number with beading was one that held a special place in his heart.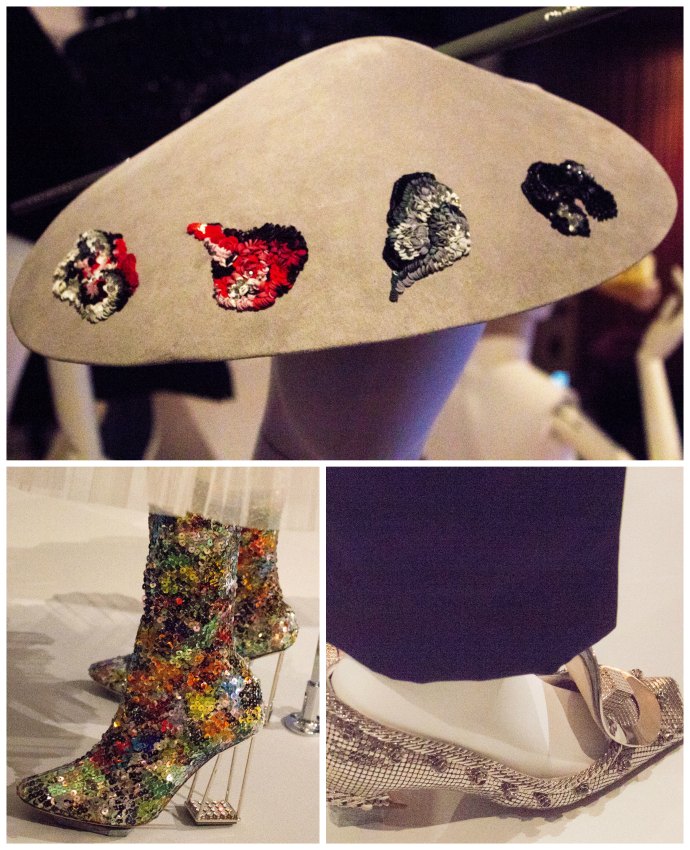 Included in the exhibition is Miranda Kerr's wedding dress.
With room after room (and over 140 exhibits) of divine and inspirational fashion crafted with exquisite technique and creativity, these creations deserve a close inspection.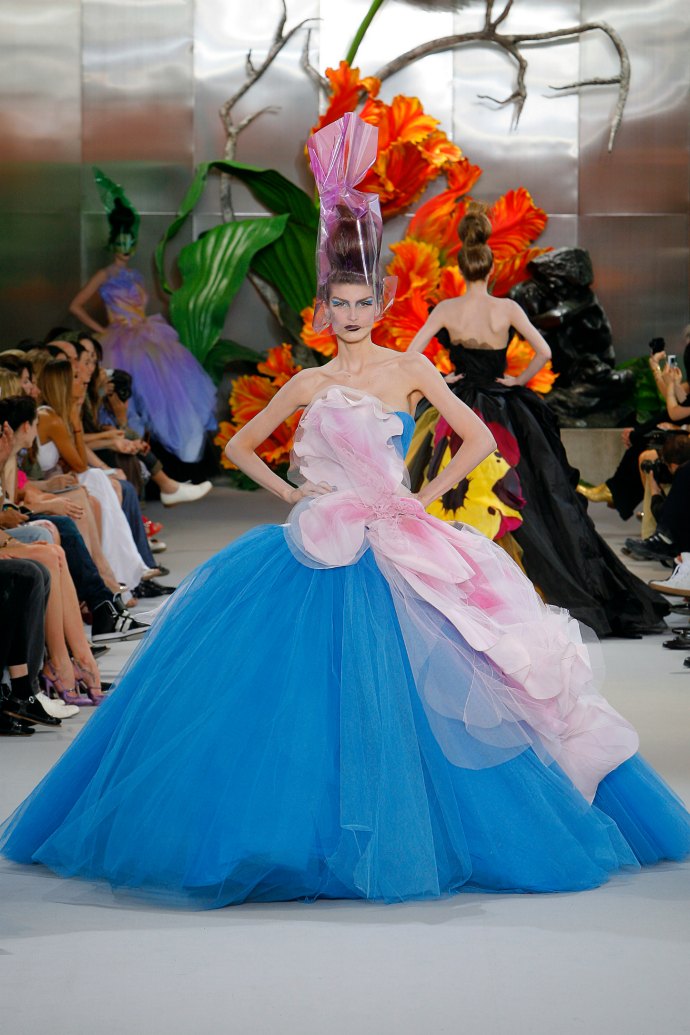 The exhibition is open at the National Gallery of Victoria until 7 November 2017.
Being able to see these creations up close is a treat!