One of the delights to enjoy on a trip to Mexico City is a visit to Coyoacán, what was once a village outside of the city, but is now an outer suburb.
In Coyoacán you will find La Casa Azul (The Blue House) the family home of Mexican artist Frida Kahlo, where she lived with her family and with husband and artist Diego Rivera.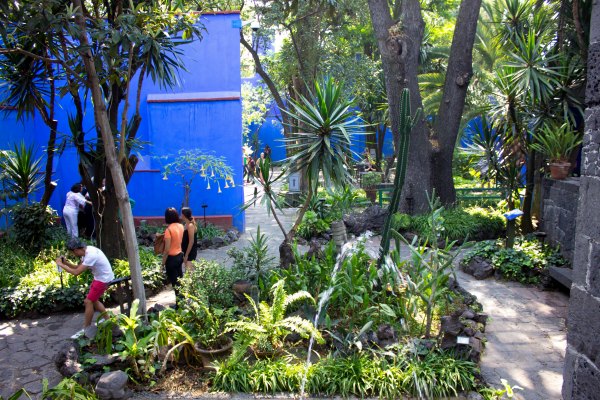 The house is typically Mexican, surrounded by a high walls with a large internal courtyard garden.
Inside the museum (the house) is a collection of Frida Kahlo's work along with some of Diego Rivera's as well.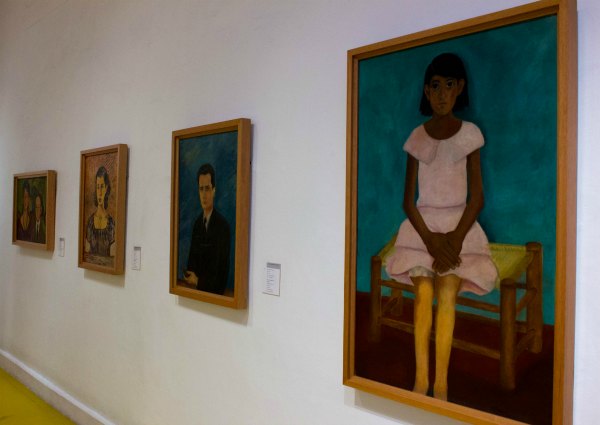 Kahlo painted many portraits and self-portraits, many of which delved into her struggles with her body which was disabled by polio as a child which left her with one leg shorter than the other, and then further traumatised at the age of 18 she was in a bus which collided with a street trolley where she was impaled by a metal handrail that meant she had to wear body braces and casts for the rest of her life (and left her in considerable pain).
It was after this accident that she started painting as she lay in bed recovering from her injuries.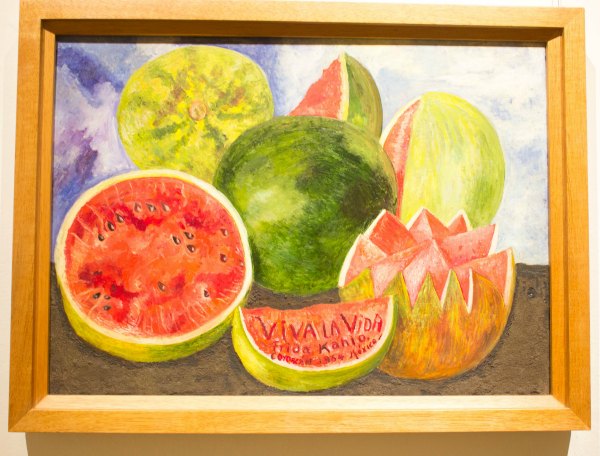 Known for her many self-portraits which she really took to painting after her accident as her mother installed a mirror on her bedroom ceiling so she could paint herself whilst recovering in bed.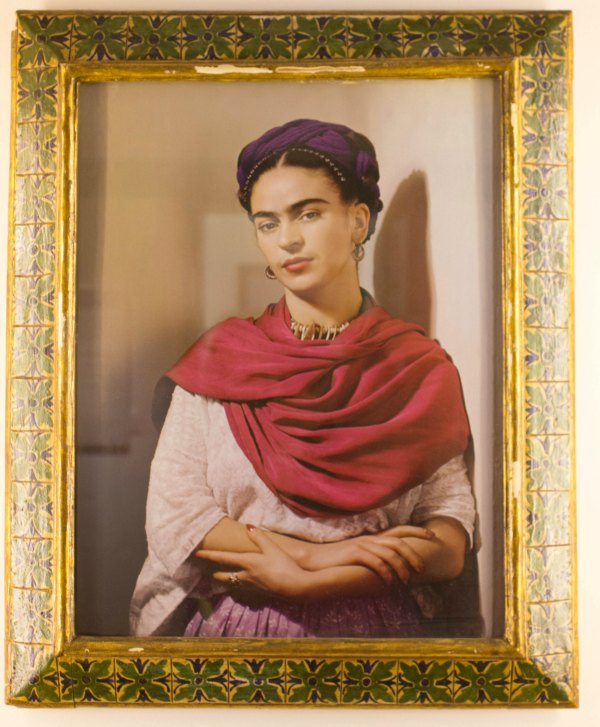 Inside the simple Mexican home of Frida and Diego you can see some of the rooms as they were, here a guest bedroom
Frida did not let her disabilities and injuries stop her from producing her art, nor did they stop her from hosting many guests at the Blue House. Her attitude was to not share her pain with friends but it came out in her artwork which depicts her infertility, her tragic accidents and her tumultuous relationship with Rivera.
"Nothing is worth more than laughter. It is strength to laugh and to abandon oneself, to be light. Tragedy is the most ridiculous thing."
– Frida Kahlo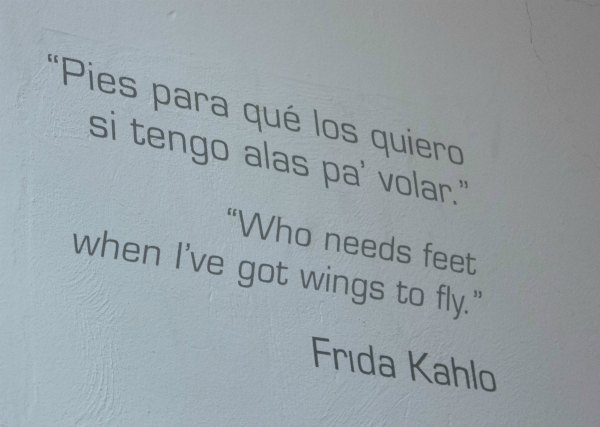 Later in life after suffering gangrene, her right foot was amputated.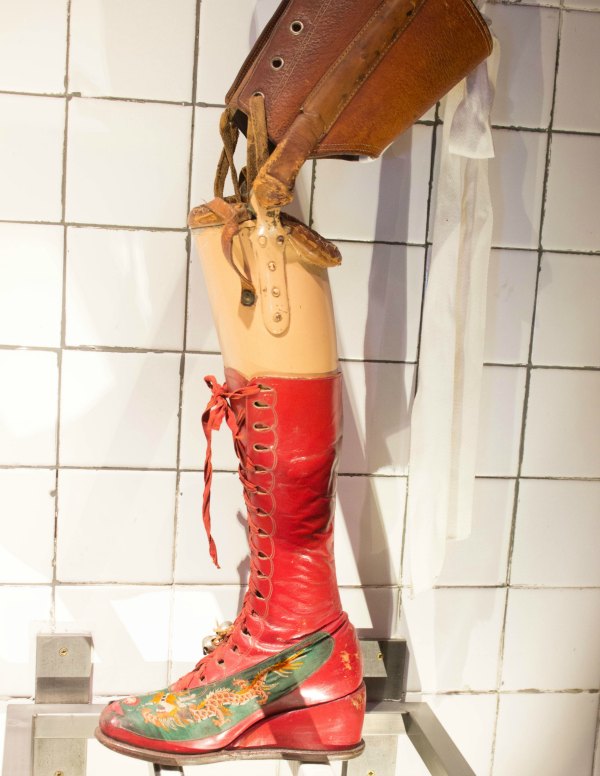 In the bus accident she suffered multiple fractures of her spine, collarbone and ribs, broken foot, dislocated shoulder and a shattered pelvis, she was left infertile.
This is one of the body casts she wore and decorated to turn it into an artwork.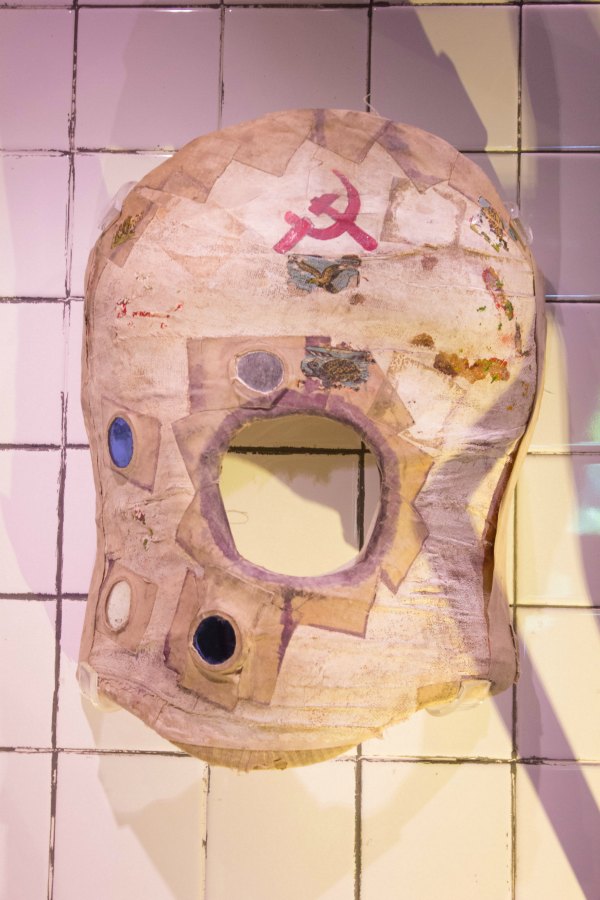 Her exotic wardrobe of traditional Tehuana clothing was locked up from 1954 when she died until 2004 (where some of it's currently on exhibit at the museum). She chose the long skirts of the traditional dress to cover her leg brace and built up shoe.
She wore head dresses and hair pieces to add height and look taller as she was petite.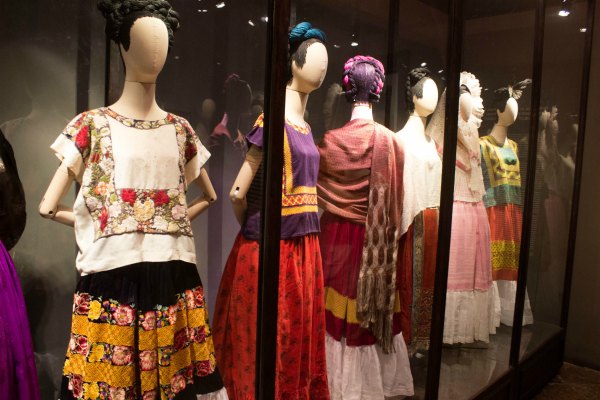 Her friends noted that the more pain she was in, the more elaborate and decorative her outfits became.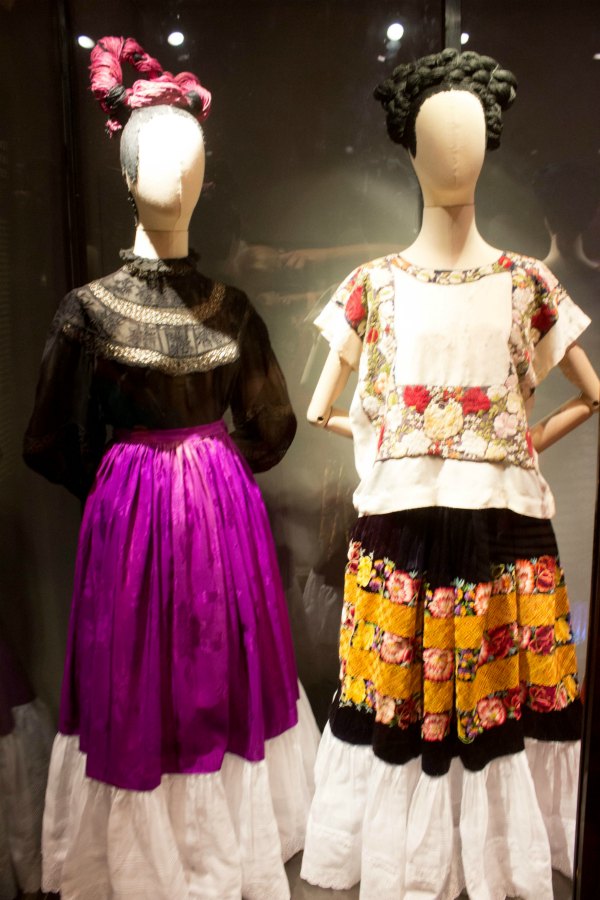 Designers such as John Paul Gaultier were inspired by Kahlo and have produced their own garments that replicate some of her art and medical corsetry.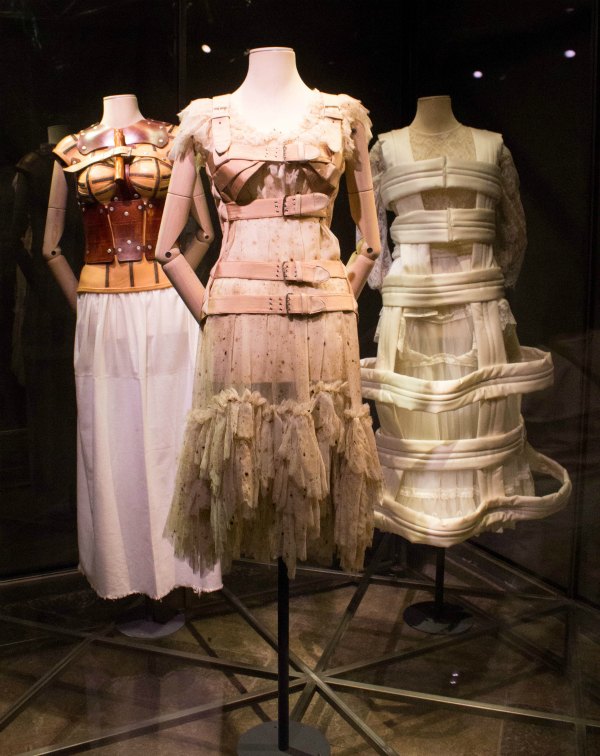 In the museum you can enjoy seeing the studio where she spent much of her time painting.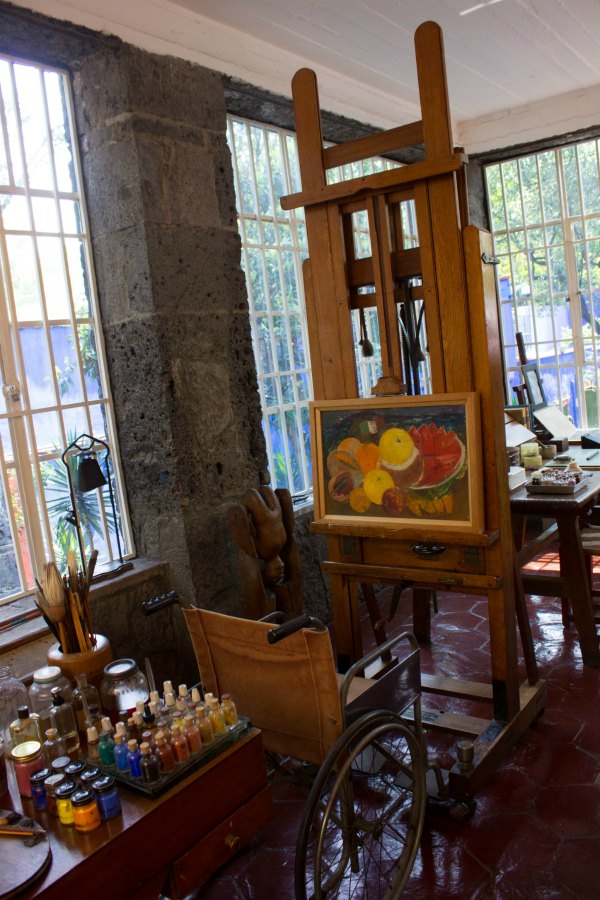 I love the little bottles of pigments all lined up in rows.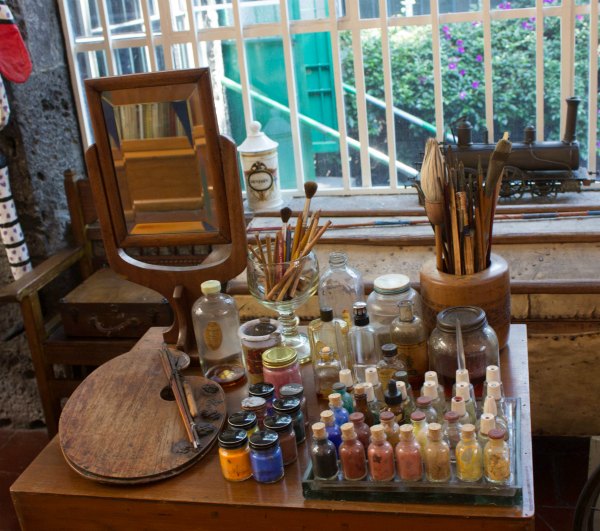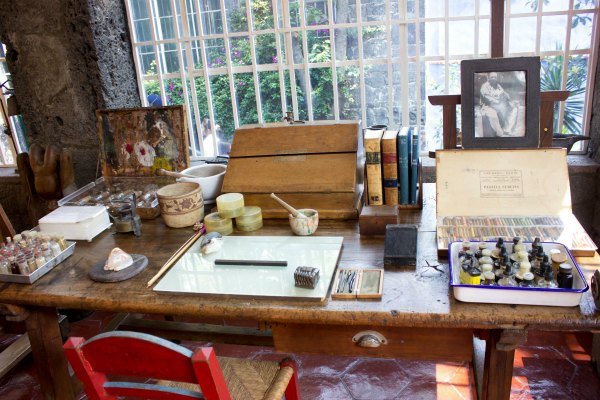 In the kitchen you also see some of Kahlo's art in these doves made from tiny tea cups she moulded and glazed with the traditional Mexican motif of skulls.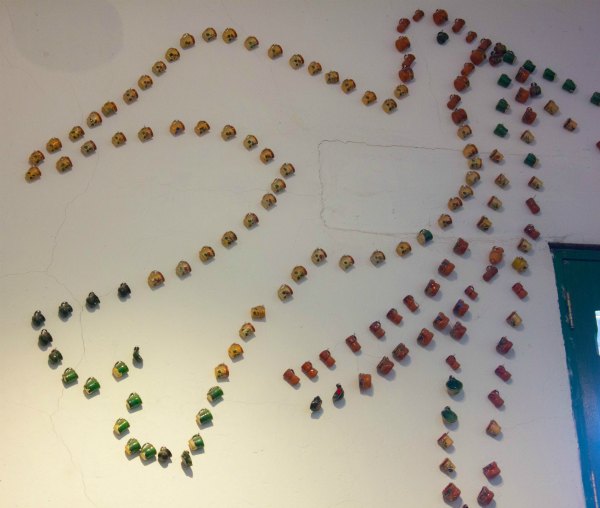 Kahlo not only painted, but also created sculptures and other artworks which are seen in her bedroom and studio.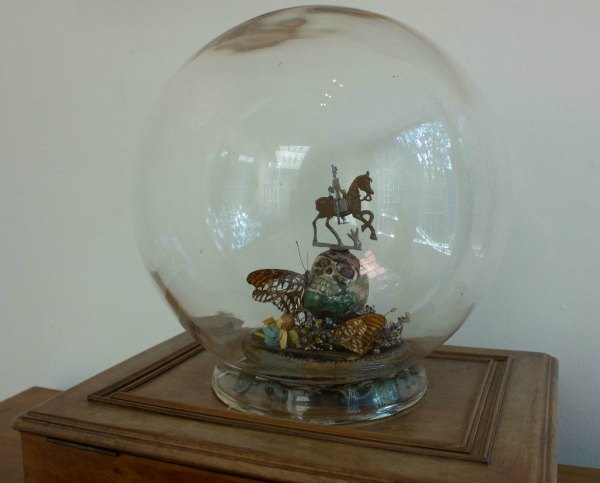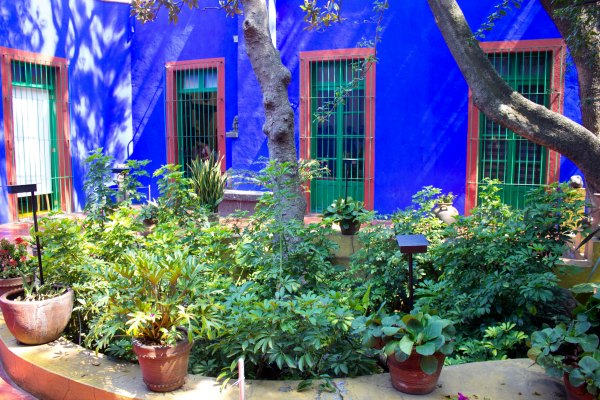 After visiting The Blue House I took a walk into the town centre of Coyoacán for a spot of lunch (where I was served a side dish of grasshoppers with my guacamole).
With historic cobbled streets and colonial buildings, there is plenty of charm in Coyoacán to enjoy.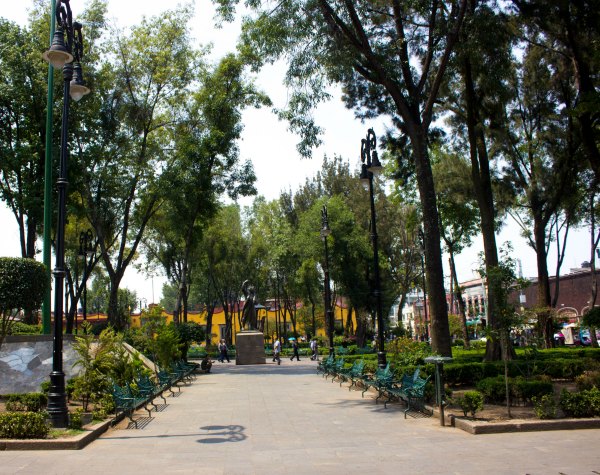 Visit the town square, wander up and down the quaint streets and laneways. Go to the markets, sit in a bar and have a quiet drink or a meal.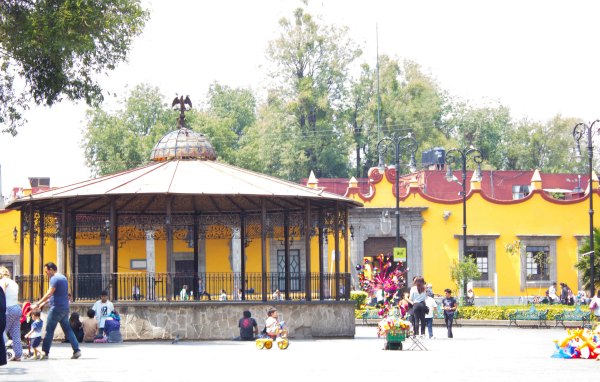 The cathedral dates back to the 16th Century and is kept in pristine condition.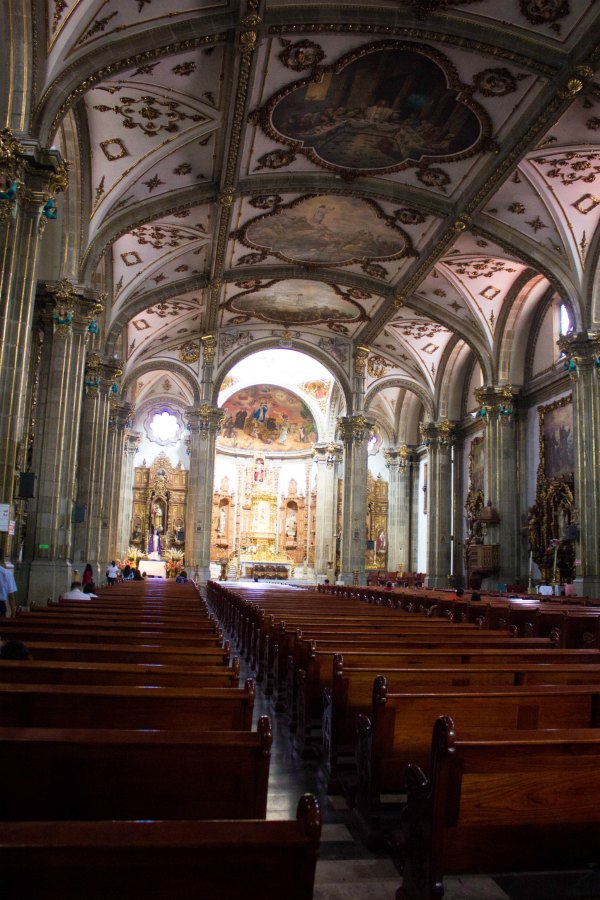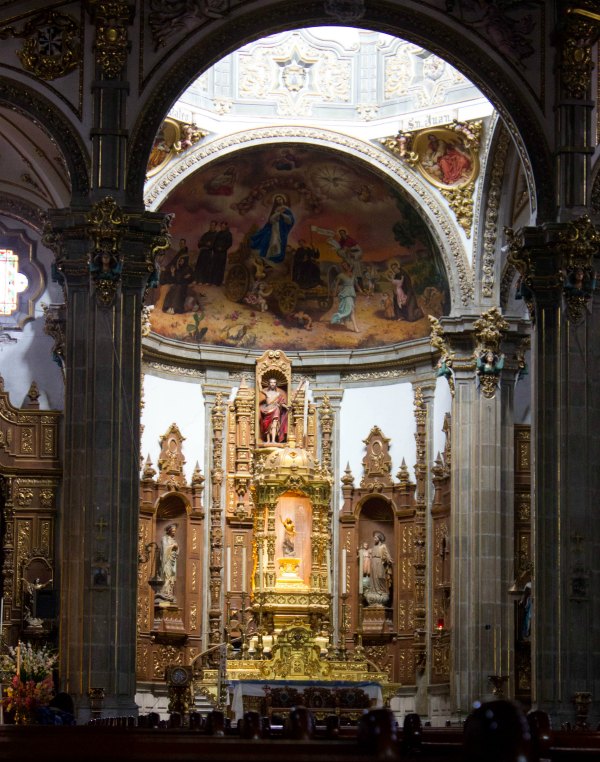 The Frida Kahlo Museum is located at: Londres 247, Del Carmen, Coyoacán, 04100 Ciudad de México, CDMX, Mexico. It's best to pre-book your tickets online (and skip the longish queues waiting to get in).