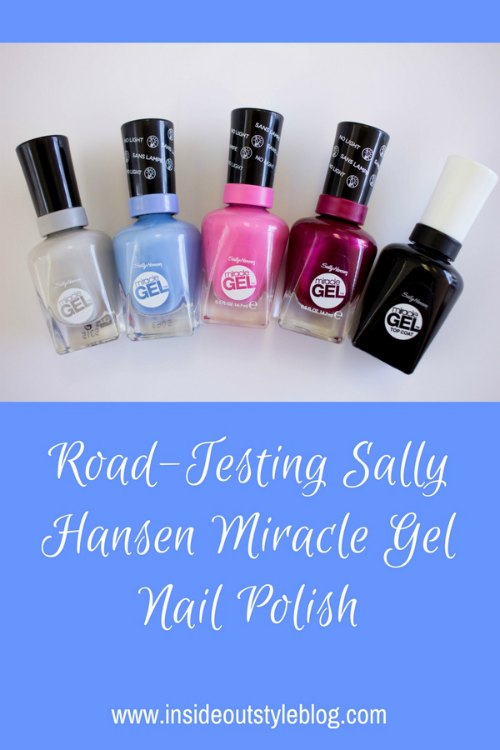 Weak nails is an understatement in my case.
I can't leave the house without an emery board as I'm sure to break a nail just by breathing.
I have emery boards stashed all over the house, in my car and handbag. I never leave home without one.
Having asked a few manicurists over the years why my nails break so much, they look at them and tell me that they are unusually thin which makes them weak.
They tear off right down in the quick, it's not fun. Not pleasant.
I've had a variety of different nail options, acrylic nails, gel nails, prescription nails. They all work, but then they make my natural nails even weaker, so either I have to commit forever, or suffer the pain.
In the past year or two I moved away from getting my nails done, budgets being tightened due to renovating the house.
So recently when I spotted Sally Hansen's Miracle Gel nail kit that promised up to 14 days colour without needing a UV lamp to cure or special gel nail polish remover to take it off, I thought I'd give it a go. Now I know with my thin and bendy fingernails and that I spend hours a day whacking my nails on a computer keyboard (plus washing up, cooking dinner etc) that 2 weeks is never going to be me… but would I get more than a day (which is about all I get with regular nail polish) before the cracks and chips started appearing?
How Well did it Apply?
It applies easily, I really like the brush shape, it holds a decent amount of polish and spreads well over the nails. I let each coat dry for 5 minutes before applying the next. They recommend after your Gel topcoat to then wait 15 minutes to let it dry properly. You have to apply both the colour coat and the top coat for the system to work.
What are the Colours Like?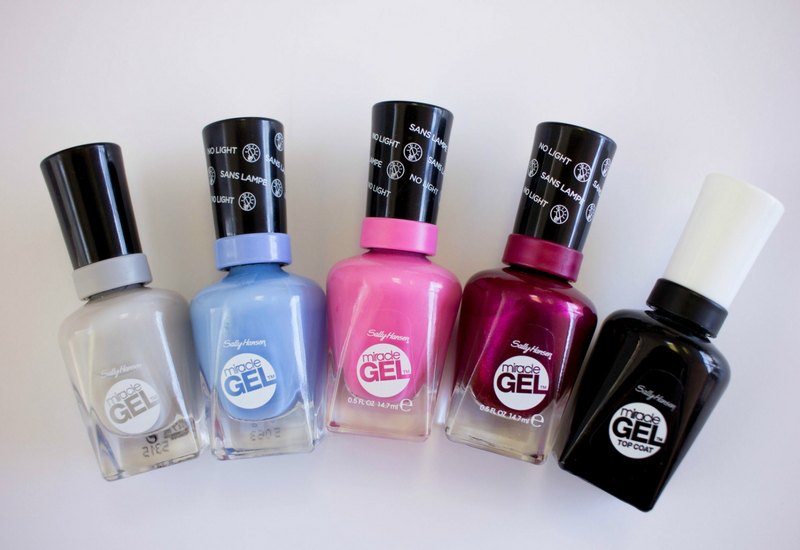 The colours go on solidly, not patchy. There are lots of colours to choose from. The colours I have are:
640 – In My Suitcase (universal grey)
370 – Sugar Fix (cool light blue)
310 – Shock Wave (cool light pink)
500 – Mad Woman (cool plum)
101 – Top Coat (clear)
How Long Did It Last?
What's the result? Well I get around 4-5 days on my fingernails of a really good looking manicure and up to a week with a little chipping. On my toes, 14 days is definitely possible.
I find that after 5 days it's started chipping on some of (not all) my most used fingers (index and thumb) and that it needs a refresh.
How to Remove it?
What I love is that it's easily removed by regular nail polish remover and doesn't trash my nails underneath.
Are My Nails Still Breaking?
It does seem to be thicker than regular polish and I'm finding that I'm not getting anywhere near the nail breakage that I usually experience. The polish is adding a thicker coat to my nails so that they are a little less bendy and breaky than normal.
The instructions say 2 coats of polish before the special gel topcoat (that dries in regular light, no need for UV lamps), but I have found that 3 coats makes my polish last a day longer and makes my nails just that little bit stronger.
You need to use both the colour polish of your choice as well as the Miracle Gel topcoat.
Of any nailpolish system I've used, this lasts longer than any other that doesn't involve getting gel or acrylic nails at a salon, and is super easy to do at home.
Shop for Sally Hansen Miracle Gel Polish