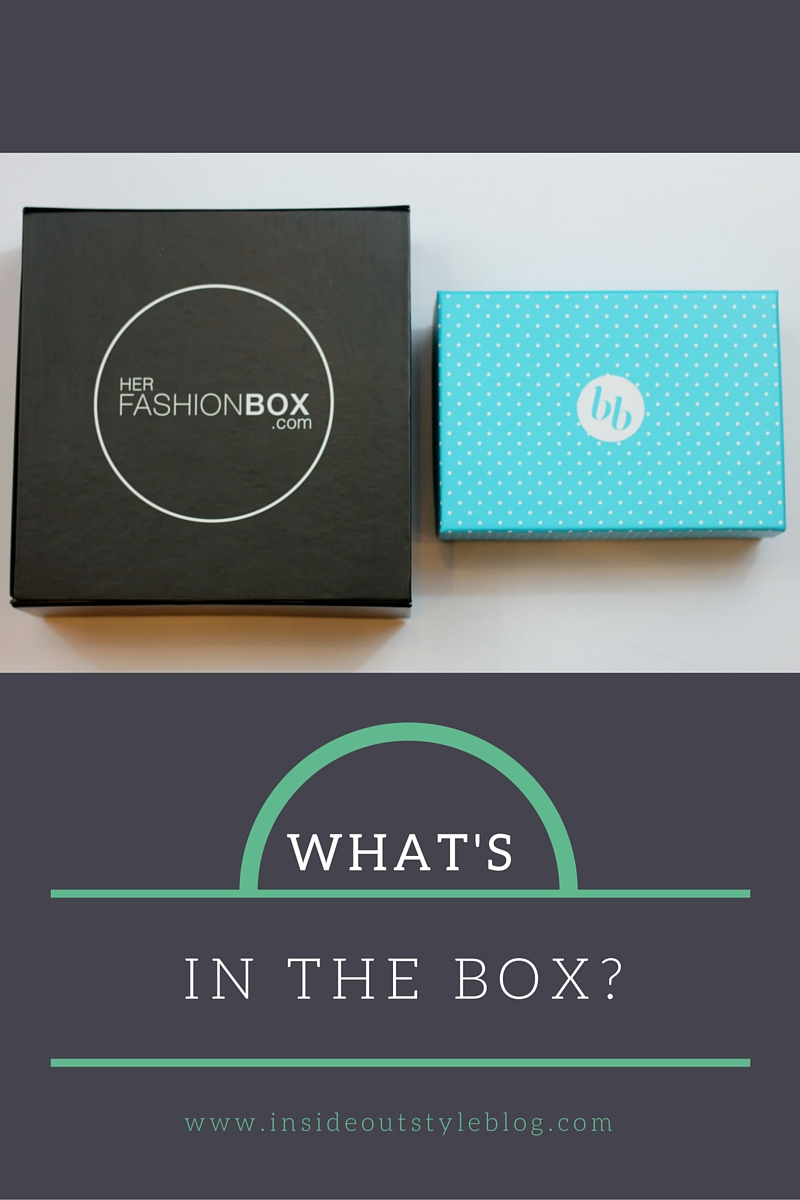 All Boxed Up – Bella Beauty Box and HerFashion Box
There are a number of fashion and beauty boxes on the market that are a subscription based service that post you a treat in the mail each month. Two available here in Australia are bellabox and Her Fashion Box and I thought I'd share the contents of them with you here in case you were wondering what you get for your subscription!
bellabox
This beauty box comes packed with at least 5 samples of beauty related products each month. From full sized lipsticks and nail polishes, to sample sized face masks, moisturisers, shampoos and cleansers (to name a few products you can expect to receive). They also often include discount vouchers and coupons for online purchases as an additional bonus.
Here are some examples of what's inside a bellabox: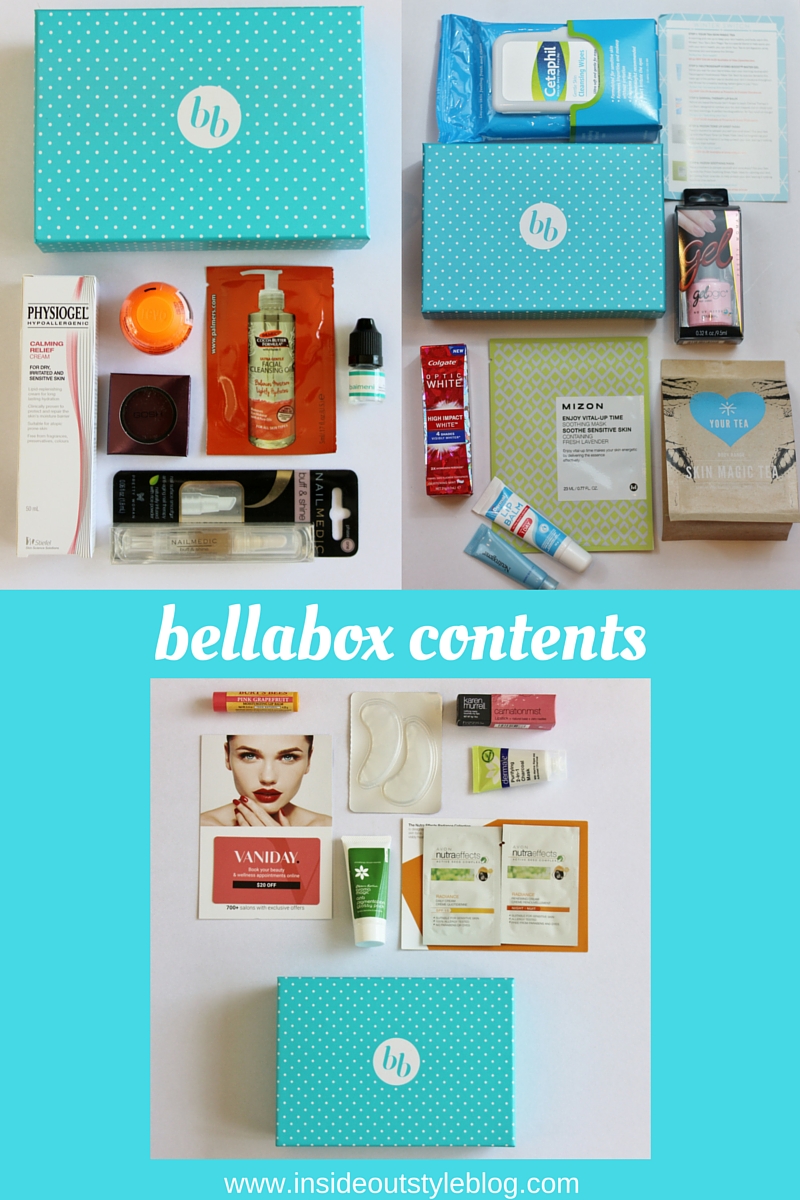 Bellabox has an online store where you can order any of the products you sample in the boxes (if you choose) as well as tutorials on makeup and skincare on their website.
What's inside the box?
Each month you receive a range of samples and full sized products. There is usually something for your lips, some skin care, often hair care samples and trial sizes. You can see from the image that I've received everything from toothpaste to cleansing wipes, nailpolish, lipstick. lip gloss for a variety of face masks and skin creams as well. I keep many of these for travel as they are ideal sizes for taking away with me.
Why subscribe? If you enjoy trying out new products and don't want to spend a fortune then small and trial size products are a great way of deciding what you do and don't like before you make a more expensive purchase.
Bellabox also have a blokes box (bellobox) and one for baby (bellababy) too.
The cost of a box starts from $13.75 per month with annual options available (and student discounts to look out for too).
Her Fashion Box
This is a concept of a fashion and beauty box where you receive 3 beauty products plus 2+ on-trend fashion accessories (such as jewellery, scarves, sunglasses). You can choose from one of 3 styles – Classic, Trendy or Feminine – plus included in all is the latest Her Fashion magazine.
I was gifted this box by Kath – the creator of Her Fashion Box and I chose the Classic box which you can see pictured here.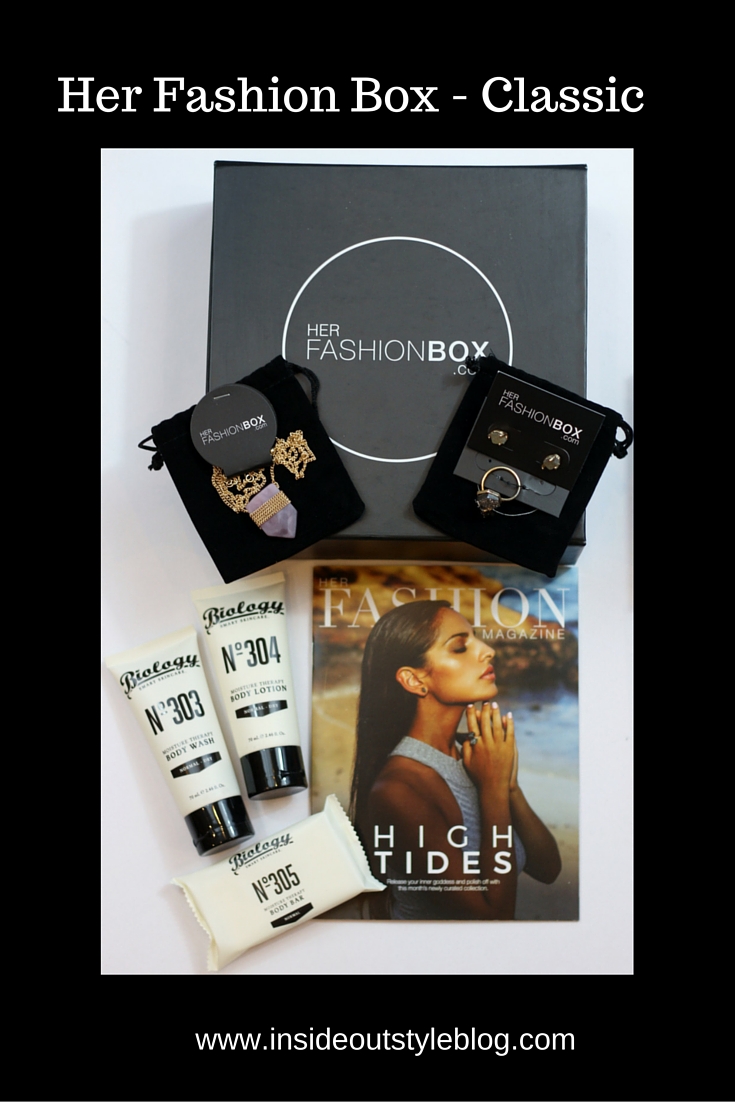 So what's inside the box? This time it contained:
BiologySmart Skincare – Ph balanced for healthy skin – free from harsh chemicals
No 303 – Body Wash – 70ml (travel size)
No 304 – Body Lotion – 70ml (travel size)
No 305 – Body Bar – 50gr (travel size)
I'm looking forward to trialing these products as they are free from all sorts of irritants which I've become more sensitive to over time. Find out more about Biology Skincare here.
Her Fashion Box Accessories
In this box I received 3 Her Fashion Box branded accessories.
They are fun fashion costume jewellery (you're not going to get the real stuff for $39.95 including postage within Australia). I found it interesting that they came in the "Classic" box as I'd say they are less classic in style and more creative or bohemian in their style, I would be interested to know what's inside the Feminine and Trendy options to make a comparison of the style of accessories chosen.
The accessories don't feel heavy or expensive, but look like they are reasonable quality for costume and a bit of fun. I don't imagine I'll be wearing them in 10 years time, but it's about trying trends not finding long term accessories at this price bracket.
The value in the box if you'd bought everything separately would be over the $40 mark but I wouldn't call this box a bargain given that you don't get to choose the accessories so may end up with something you'd never wear (as I don't wear gold, but it's all "gold").
I think the fun of any sort of beauty or fashion box is the enjoyment of receiving a package in the mail and discovering new products.
Have you subscribed to any of the 'boxes' out there? Tell us which you love and why in the comments.