One of the experiences that I feel privileged to have been given the opportunity to have whilst here in Dubai, is to visit the showroom and design studio of DAS Collection, the brainchild of Reem & Hind Beljafla. As traditional but fashion forward abaya designers, they have created some incredibly beautiful, hand-made garments that retain their modesty. I was so excited when we were invited to try on the signature cut dress as on the hanger it looked interesting, but it's on the body that it really comes to life with it's intricate draping. This dress suits every body shape, I've never seen a garment so universally flattering, and if I hadn't already had a wedding dress made, I would have immediately ordered one for my upcoming occasion! It's like wearing a tall cool drink on a hot day! I felt like a glamorous movie star and never wanted to take it off. The fabric is a beautiful silk and they make less than 10 of each colour, and each can be modified and adapted to be truly unique.
See it doesn't just suit me! Doesn't Candice look absolutely divine in it?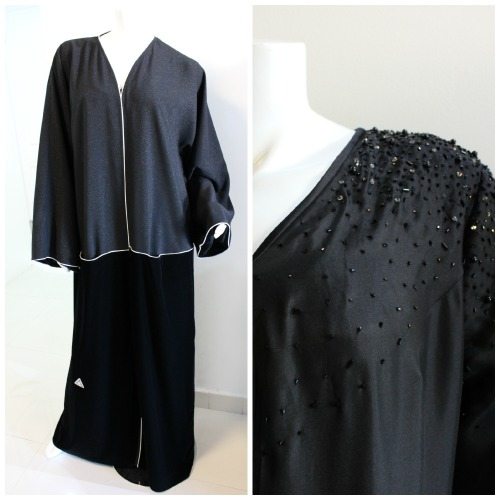 Das Collection also make the more traditional abaya's but with a modern look and more detail, particularly for events and weddings where a little sparkle never goes out of style.