I like to dress with a level 1 combined with level 2 level of refinement, but don't want to look try hard or overdressed when not dressing for more formal or fancy occasions. What to wear?
If you are a more formal dresser naturally, you prefer more classic or structured clothes, finer fabrics and an overall higher level of refinement, then dressing up is easier for you when you're going to more formal occasions, but everyday dressing can be harder as you may feel overdressed compared to others who have a much more relaxed and casual dressing style.
Always consider the fabrics you're choosing. Even for a smarter or fancier event if you don't want to look overdressed steer away from shiny fabrics. Or if you want to glitter, just make it in smaller doses such as an accessory or one smaller garment.
Styling a Dress 6 Ways with a Layer
You can dress a cocktail dress down with a less formal necklace or cardigan or jacket. Changing your shoes will also change the way the whole outfit appears.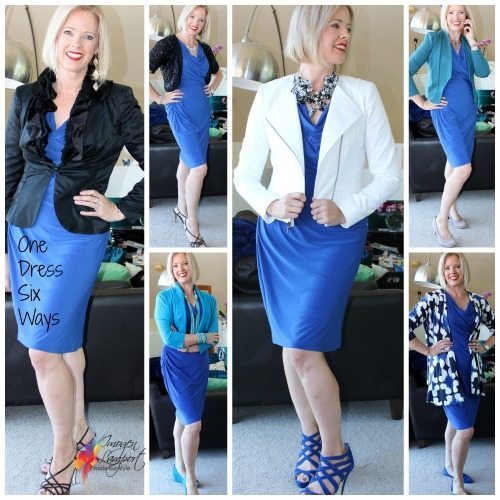 Here I've taken one dress and styled it 6 ways, so you could wear it to a cocktail/formal event, dressy dinner or event, date night, lunch with the girls, to work, and smart casual.
Using Accessories to Change The Styling of Your Dress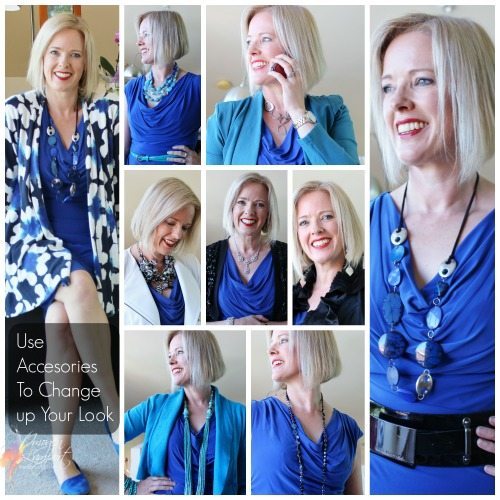 You can see that the accessories make a huge difference, as does the 3rd piece, as to how formal the outfit becomes.
If it's a smart but not overly formal event, why not mix a little denim with something more sparkly or shiny to dress it up.
It's also important to own your personal style, and even if that's a more formal one than your contemporaries, that's ok, if you are comfortable and confident in your clothes, people will get used to how you dress quickly, and may even start dressing a little more smartly themselves!
How 3-5 Style Guidelines Are All You Need to Be Super Stylish