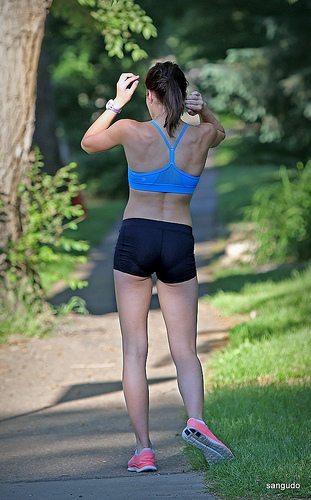 For a long time (well most of my life) I never ran. Well I couldn't run without pain or holding my breasts and that's exhausting, not being able to move your arms in the regular running pattern makes you tired way more quickly. After 30 years of searching, I finally found a sports bra that did give me enough support to start running (huge amount of trial and error went on in finding it). And I believe I'm not the only woman to have limited the kind of exercise she has done, due to her boobs as some recent research has found. Apparently, breasts are one of the top 5 reasons women give for not exercising!
Since I had my breast reduction in April, I've not run. I wanted to wait until everything felt better, which it does now. I've been going to the gym and walking on an incline, doing weight lifting and yoga, but no high impact exercise.
The sports bra I bought after my operation was fine for low impact, yoga and body pump classes, but just didn't give me the support I needed for running.
In the process of researching Uplift (a charity that gives your old bras to women in developing countries) where I could donate my old bras that no longer fit I discovered She Science, a sports bra store in Kew (they accept bra donations for Uplift). So when it was time for me to start running again I decided that I would go there to get fitted correctly as they have a brilliant range of sports bras and really understand what's required.
I was measured for my size (10E/32E) and then proceeded to try on some different bras. We discovered two that seemed really supportive and comfortable, so I took them for a test drive on their treadmill.
They have a camera that films you on the treadmill (should you wish to… it's an optional extra), and then they can measure your bounce, and which is the most supportive bra. This is a really great service and the women working there really know how to fit you properly. From what I experienced, they have a great range of sizes (including large cup sizes).
The service was excellent and I'm now back running again! Regaining the fitness I lost with my time on the bench, wondering if that mythical runner's high will ever hit, but at least my boobs are not stopping me from exercising!
photo credit: Sangudo via photopin cc