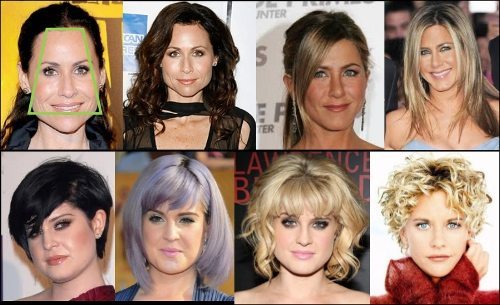 A Pear/Triangle/Teardrop face shape has a broader jaw than forehead. So your aim is to soften your jaw, make it appear a little narrower, whilst balancing your jaw to forehead. It's a bit like a heart shape face flipped upside down.
Hairstyles that Flatter a Pear/Triangle/Teardrop Shaped Face
Layers around your face work really well. Shag styles (yes the Rachel cut… remember Friends) is ideal for you.
If you have a very narrow forehead (diamond like), go for a fringe (bangs), either side swept or blunter cut (if your face isn't too short).
Volume at the templesand sides can also work well to balance your narrower forehead with your jaw.
If your jaw is softer rather than angular (more teardrop than triangle) a short wedge cut can work to balance by giving your width at the temples.
If you have symmetrical features, a centre part with long straight but layered hair can work well to diminish the size of your jaw.
When you wear your hair pulled back into a ponytail, ensure you have either a fringe, or a few wisps of hair that go past your jaw to soften your jawline.
Hairstyles to Avoid for Pear/Triangle/Teardrop Shaped Faces
Lots of waves or curls around your jawline as they will further broaden it.
One length all over hair, you need layers.
Hair pulled severely back into a pony tail.
Pixie cuts can be hard to pull off as your broader jaw can give your face a more masculine appearance.