Hoodies, here's a topic close to the heart of my 11 year old son. He loves them, and they are appropriate for him to be wearing, but how about when you're 50. Are hoodies something that should be gracing your wardrobe?
OK, now this is just my opinion, and you are welcome to have your own, but to me, hoodies are for kids, not adults, unless you're working somewhere that requires at hooded garment or you're off to do some exercise. For most adults, they never wear the hood on their hoodie anyway, so what's the point of having one?
Hoodies are a garment that is synonymous with youths who want to mask their face as they commit crimes, as seen in news footage on TVs all around the world. My question to you … is this something you want to communicate?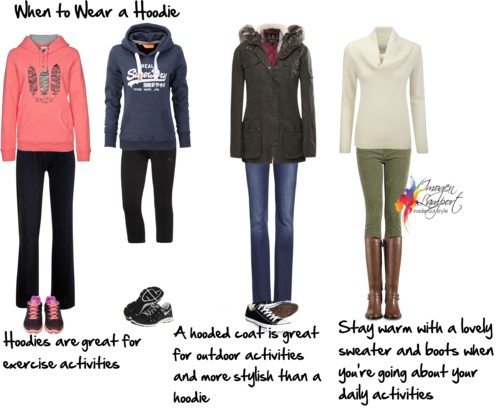 Hoodies – best for exercise – when you're off on your morning run when it's chilly before you've warmed up.
Hooded coats – great for people who spend time outside in the snow or cold – the more adult alternative to a hoodie sweatshirt.
Sweaters/Jumpers – there are so many beautiful ones out now that will keep you warm and way more stylish than a hoodie ever would.