I LOVE your blog. I refer to it ALL the time. Thank you! I have a question for you? What color shoes would you wear with a champagne goldish dress with tiny sparkles? The style is just just above knee length and is a cocktail dress. Thank you for your time in advance for answering!
Angie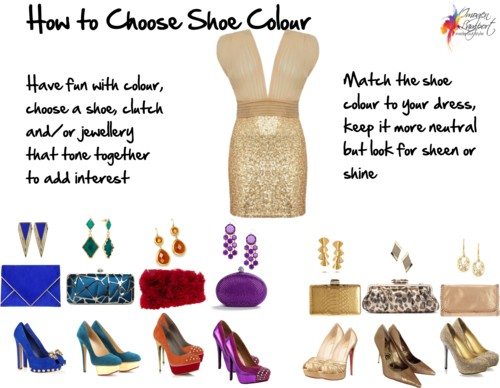 There are two easy ways you can go about choosing a shoe colour. You can either have fun and play with colour. It's completely acceptable to choose an alternate colour to your dress and use it for interest, tie it together with jewellery and/or a clutch in the same colour. Don't forget if your toenails are visible to paint them in a matching colour to your shoes. Not sure of what colour to choose? Think about relating it to:
Your eye colour (particularly if you have blue, turquoise or green eyes)
Your lip colour – reds, burgundies and purples
Your hair colour (particularly if you have blonde, orange or red hair)
Or there is the more traditional route of choosing a gold coloured shoe that matches your dress. But why not think about one with an interesting finish such as snakeskin, or more sparkles to relate back to your dress.