I recently bought a women's tuxedo jacket. Now, how do I wear it? I don't want to make it more masculine. No cumberbunds in black or hot pink. I do want to feminize it. I also want to wear the tuxedo jacket in a casual type of way. Like with jeans. But what type of top? The lapels are satin. Does a blue satin round neck T-shirt go with it. I am 5'9.5″ and 160 pounds. I am an O shape. I think I'm trying to put casual with elegance. Is that possible? Thanks. Pat.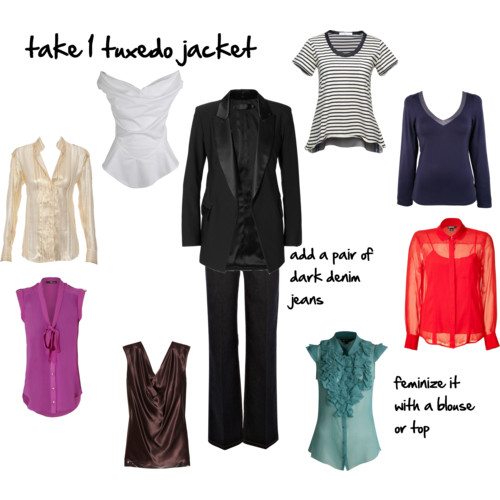 A more masculine piece of clothing like a classic tuxedo jacket can be worn a myriad of ways.
1. Go traditional black and white – but avoid the collard shirt, instead choose a white blouse with a feminine shape and neckline.
2. Work back the satin – a softer satin fabric is more feminine than a cotton in a shirt, but still remains simply elegant.
3. Add a feminine pussy bow blouse – chiffon skims over your figure and the bow adds a feminine touch, a little reminiscent of an undone bow tie.
4. A satin cowl neck top in colour will work with the satin lapels on the jacket.
5. A chiffon ruffle neckline will feel right with the tuxedo jacket.
6. Go sheer in colour, always so soft and feminine, but simple and without fuss.
7. Work it casually with a t-shirt in colour with a satin trim on the neckline to tie it to the satin lapel.
8. French chic works a treat, roll up the jacket sleeves and work it with a blue or red striped t-shirt for that understated elegant chic.
This jacket can take you from a formal affair (with a pair of gorgeous black wool trousers) to casual Friday at work, with your dark denim jeans and a good quality t-shirt.
Don't be scared to wear it with a skinny jean and knee high boots as well as a pair of heels and a trouser style or bootcut jean.
O-shape Tips:
Don't tuck in your tops, make sure they're long enough to skim past your tummy.
Make sure the fabric doesn't cling, look for fabrics that skim and drape and are not stiff.
A curved hemline on shirts will further feminize and flatter your figure.
Don't forget the jewellery, add a necklace to some earrings to draw attention up to your face.