Yesterday I was emailed some photos by Katherine one of my lovely readers who wanted to know if she should save or spend on items. Which would last years in her wardrobe, and which wouldn't be worth the money.
The pictures she sent me were this skirt and dress.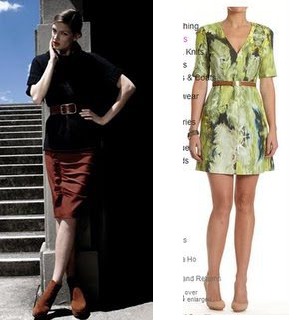 One I advised to spend on the other to save on. Which do you think?
The skirt is a great classic shape, in a neutral colour with some creative detail (which can make it a more outside of fashion trends) so this was definitely the keeper.
The dress is a fairly classic shape, but the pattern is of the season, and I notice that unless patterns are classic, such as stripes, checks, animal print, then they date really quickly. Even florals, which always abound, date, as the floral of 5 years ago doesn't resemble the floral of today. In fact I often find that I can date a garment in someone's wardrobe from the style of the floral. So this one would be the kind of garment that I'd only buy if it was at a great price and didn't expect to keep it for years.
What do you splurge on and what do you save on?