Today I'm off to speak to a group of business women, and my topic is accessories and how to choose them. One topic I will talk about is how to match jewellery, without being matchy-matchy (unless you're very classic in your personal style, matching sets tend to look old and fuddy-duddy).
I've done up a polyvore to show you some of the elements of design I may look for when choosing jewellery that goes together, without it being a matching set.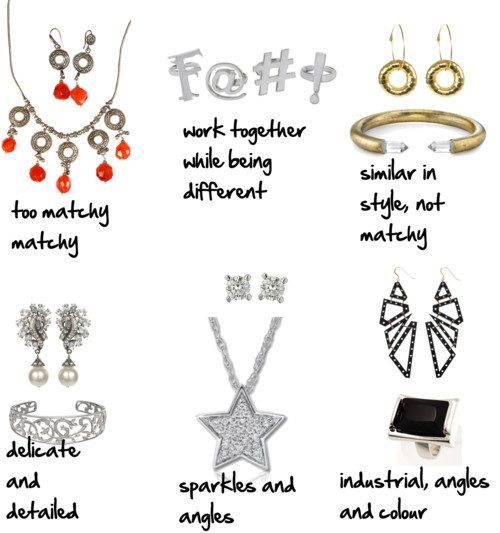 Top left – a matching set – feels contrived
Top middle – Wendy Brandes swear rings – they are made as a matching set, but because they are each different it's not old fashioned.
Top right – the circle element of the earrings works well with the plain simple gold bracelet without extra detail.
Bottom left – the filigree bracelet, the delicate curled pattern works with the feminine nature and detail of the earrings.
Bottom middle – the angles of the star necklace and the sparkle work with a simple plain diamond stud that has an angled finish.
Bottom right – the industrial and modern feel of the earrings needs a strong and large scale cocktail ring, that is also angular in design, it wouldn't work well with a curved ring.
So just remember, look for elements of the designs that work together rather than clash, and you can create a great personal style with your jewellery.