I'm off to Manila in the Philippines tomorrow for the Association of Image Consultants International South East Asia conference. I'm speaking at the conference on blogging, so have to have something that is suitable to stand up in front of a critical audience. There will be a gala dinner, other conference events and then I'm off to Boracay for 3 days to enjoy the beach weather and relax. I'm going for 9 days, 5 in the city the other three the beach.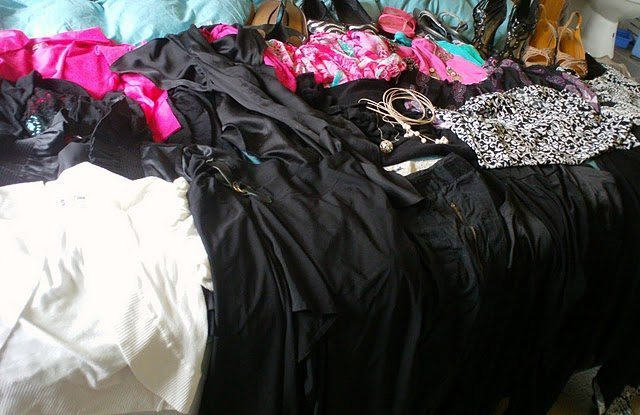 The weather is very hot and humid, and off course air-conditioned inside, so what I've got is some layering options. I've settled on a colour scheme of black, white, pink and green and have packed a variety of things I can easily wash that will dry quickly, that can be mixed and matched for lots of different options.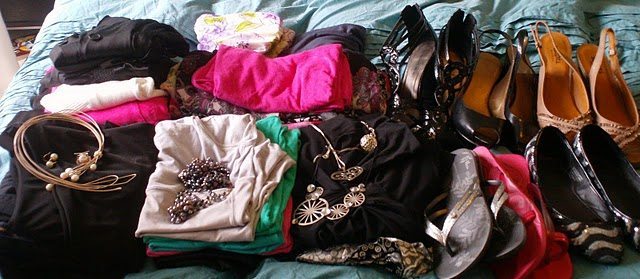 So what have I packed?
Top left: Cardigans (1 long sleeve, 3 short sleeve, 1 evening) to go over all my clothes in the air conditioning.
Bottom left: black harem pants, Black Skirt, Black cropped pants
Middle top left: 4 tops in shades of black, white and pink.
Middle bottom left: tank tops (to either wear under sheer tops or under shrugs as tops) in silver, black, green and pink.
Bottom Right: Plain black evening dress, black and white maxi dress
Shoes: 2 pairs rubber thongs, 1 pair ballet flats, 1 pair sling backs, 1 pair high heel black sandals, 1 pair nude wedges (more shoes than I 'd normally pack, but I'm aware that my feet swell in humidity and if I don't have shoe options I'll end up with terrible blisters and sad feet).
Jewellery: Pearls for the gala dinner and to dress up tops for evening, silver necklaces
Top: swimmers and cover up for going to the beach/pool
I'm hoping that what I put together will look formal enough (the dress code is business formal, but I just don't wear suits unless I'm going to see accountants or lawyers), these are the kinds of clothes I'd wear to see clients and are much more my style than a suit!
On the plane I'm planning to wear my black harem pants (super comfortable) with a black tank, sheer pink and black top, long sleeve black cardigan and ballet flats. All comfortable and made from non-crush fabrics. When I leave Melbourne it will be cold, when I hit Manila it will be hot and humid.
I'll try and post from the conference, not sure about the internet access, but will see what I can do.