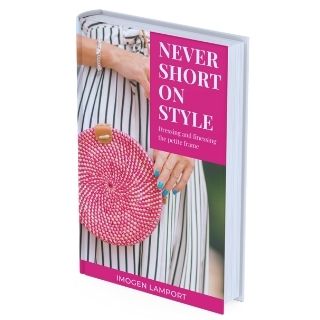 What made me happy this week? Well I'm thrilled to say that I've FINALLY finished writing and editing my new ebook for Petite women called Never Short on Style: Dressing and Finessing the Petite Frame.
I'd like to say thanks to all of you who came up with potential titles, to Susan (contact me for your free copy) who came up with the name, and everyone who emailed me with suggestions of what should be included.
As a thank you to my blog readers I'm doing a special for you only using the code BLOGLOVERS for a $5 discount on the cover price of $17.00US. (Discount valid til the end of September 2010)
Get your copy of Never Short on Style today!
What's inside the book:
How to dress each petite body shape (petite being 5'4″ or 163cm and under)
Body proportions
How to choose shoes, handbags, hats and jewellery
How to give yourself the illusion of height
Where to place focal points
How to deal with body variations
Plus lots more!
Delivered to your inbox directly, get your copy of Never Short on Style now.
Some feedback-
I'm quite certain that "Never Short on Style" is by far the most comprehensive style guide for petites ever written! Any petite who takes this information to heart can expect to look fantastic and save money by avoiding costly mistakes. Now I can see clearly why certain items in my closet, even those designed for petites, have not been quite right for me. Thanks a million Imogen! Krys