.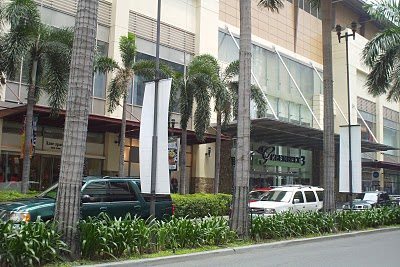 Greenbelt shopping centre
.
Well I'm here in Manila, Philippines, and have been looked after very well so far. Last night as I was being driven from the airport to the hotel I asked the driver what the population of Manila is, he said 19 000 000 which is only a few million short of the entire population of Australia.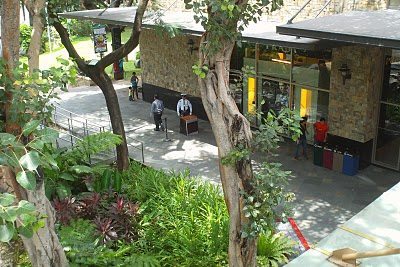 Prada
I'm staying at the New World Hotel in Makati, right opposite the Greenbelt shopping centre, which is huge. At every door there is a security guard, here isa pic of the one outside the Prada store.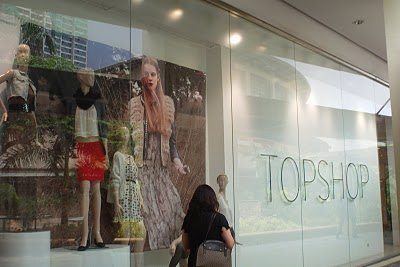 Topshop
Not only are there the big luxury brands here, but you can shop for all the brands from the US, from Tory Burch to Banana Republic, from Spain Promod and Mango, from the UK Marks and Spencer, Top Shop and Dorothy Perkins and of course local stores too.
There are people to help you everywhere. They really know how to give good service, this is something that has recently become very lacking in Australian department stores (Myer and David Jones) where often you'd be lucky to find someone on a counter to take your money. One store I walked into in The Landmark centre had more staff dusting the shelves and products than would probably be even employed for every shift if they all turned up at once in Myer.
It made me wonder why we have become so lacking in service in our department stores (this is not usually a problem in the specialty stores). Is it about cost? More staff, more cost – yes, but also, I would be interested in knowing how much income is lost because there aren't any staff to serve you, so customers leave without buying. I'm sure that the extra salespeople cost could easily be covered by the extra sales and loyalty that would come from having good service. What do you think?
I'm off to enjoy some great Philippine service!