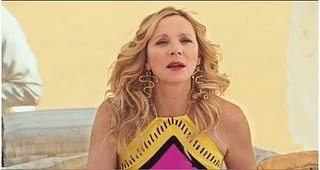 So last night I joined a few hundred other women (and a couple of guys) at the Look Good Feel Better charity screening of Sex and the City 2.
The evening started with a cosmopolitan and a goodie bag, and I got to meet Anna, one of my lovely blog readers who had come along with a friend of hers. Sorry, I should have taken a pic, but my camera broke the other day.
Then into the theatre with choc top and popcorn. I knew that I wasn't in for an Oscar winning performance, SATC is pretty much all about lightness and fluff these days, but sometimes that's what is required.
There were lots of funny one liners, and I particularly loved the gay wedding and Liza Minelli manifesting there.
The clothes were completely over the top. What those girls wear to bake a cupcake or just go shopping is what the rest of us may wear at a wedding or event. To go out to dinner it's Red Carpet time! They managed to fit in to each day of the movie more outfit changes than my 5 year old can, and that's saying something, as she loves to rock multiple outfits each day.
It was great to see the famous Wendy Brandes Cleopatra earrings on Samantha on the giant screen.
So to sum up, shallow as a puddle, but great fun to splash in.