Reader Jill asked me for some help finding a Mother of the Groom outfit:
I am quite thin with a bony chest and torso (only 47 kilos), small bust, average height, rectangular body (carrying a little more weight below the waist) and am 60 years young. My hair is jaw-length brownish red (a similar style to yours) and my eyes mid-brown with fair skin (wear beige foundation). I am a Warm Autumn. I have a long thin neck and thin arms and lower legs. I hate matronly clothes, and those that are overly fussy. I like the chic, elegant look. I am an average sewer. Many of the dresses on the racks are too bare or too matronly. The mother of the bride will be changing – one short outfit for the church and one tea-length for the reception. I would prefer one outfit. The bridesmaids are wearing long dresses in a mid brown/bronze colour.
I really am desperate for any suggestions – shops/colour/styles!!!???
What to Wear as Mother of the Bride or Groom?
I've collected some great posts from around the internet for inspiration.
Duchesse from Passage des Perles has come up with these solutions as she hates much of the MOB wear out in stores.
Rebecca from Between My Peers was recently a MOB and did a series of posts on finding her outfit.
What Rebecca wore and when she went about choosing options.
Are there any rules?
Well of course, stay away from white and black.
Find a colour that suits your colouring, you want to look great – there will be lots of photos to remind you of the day.
Don't overshadow the bride
Find a colour that doesn't clash with the bridesmaids, but is not the same as the bridesmaids. So avoid the brown/bronze colour of the bridesmaids, but you could try a deep rusty red, a beautiful olive green, a soft coral pink, and lovely warm red-violet – all these would tone well, work with your colouring, and not clash.
Wear something that is a reflection of your personality – you still have to be you.
You may find that it's easier to find a top and skirt and add a jacket than find a dress.
Look at the weather, no point in being overly hot or cold, it's hard to have fun when you're uncomfortable.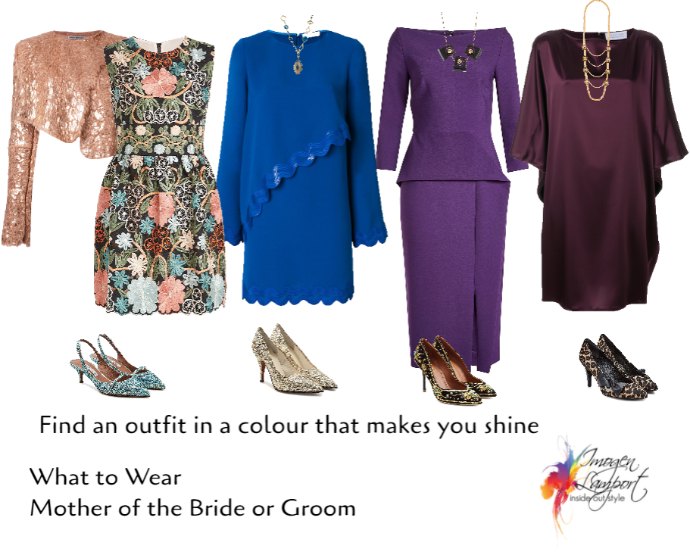 There are plenty of online resources, you can look at for inspiration, such as I Do, but if you don't want to go down the regular path, I'd try looking in boutiques for something great to wear. Put together an outfit that you can split up as well as wear together. A beautiful skirt and top with a divine jacket would be a good option.
You could try Anthea Crawford (pictured above available at Myer) or Carla Zampatti and see if either of these have good options for you. There may be some other options at the department stores. Alternatively look in boutiques, there are lots of great clothes by New Zealand brands (such as Verge) or Australian designers (try Master and Margarita) that are stocked around the place that would be suitable as they are aimed at an older clientelle, but are still current and not fussy.
Of course you need to shop with your body shape and proportions in mind (I or H I'd guess, not having seen you).
Have a look at what Anna Wintour wears for inspiration, she may have a similar body shape and proportions to you and is always elegantly dressed, much of what she wears would be appropriate for a wedding.
Take your camera when you go shopping, have a photo taken of you in each outfit you try on – that way you can see how the outfit photographs (and this will be important).
If you need help and would like a local image consultant to take you shopping, check the Association of Image Consultant's directory, you can do a search via location.
Does anyone have any other suggestions or ideas on where to shop (Sydney Australia)?