December is here, and suddenly I've got to think more seriously about the whole present issue. So for yourselves (if you have to fill your own stocking), or for your stylish friends, here are a few ideas for stylish stocking fillers or Chris Kringle presents.
Petal Plusheez – Spa Socks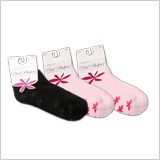 After a long day on your feet, try a pair of Spa Socks from Footpetals.com, great for travel or at home. Unlike bulky slippers, these spa socks save space in your suitcase and are great to wear on airplanes and in hotel rooms. With their slip-free tread, you won't want to take them off!
Foot Petals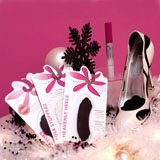 If you're wearing heels to all those Christmas Parties, keep your feet sweet with some extra padding with some Heavenly Heels also from Footpetals.
Why not choose one of the new books on style on the market:
Instyle the New Secrets of Style: Your Complete Guide to Dressing Your Best Every Day
The latest edition of InStyle's top-selling classic, The New Secrets of Style features even more expert guidance for looking fabulous. The editors who have made InStyle today's leading style publication take the mystery out of fashion with plenty of practical and simple strategies for building your best wardrobe. With The New Secrets of Style, you'll never again stand in front of a full closet and declare that you have nothing to wear!
What you'll learn from The New Secrets of Style is that the key to dressing well and developing a personal style is surprisingly uncomplicated: Figure out what works best for you-and stick with it. The payoff? When your clothes work, life's a lot simpler.

Style Clinic by Paula Reed
Transform your life with these expert lessons
When to spend: what is worth a budget blowout and what can be a cheap buy.
How to find the fabulous in every figure: dress thin, tall, and timeless . . . promise!
Secrets of the successful shopper: how to know if it's eek! or chic!
The essential proportions of the perfect pants, the jacket you'll love forever, and dresses to die for.
And much more—on coats, suits, shirts, shoes, bags, and essential accessories. Here you'll find everything else you need to release your individual style.
"Incorporates all the great elements of many books in this genre: bright, bold images, a fun, informative tone, and tips most women can apply to their own wardrobes. Peppered with pictures of celebrity fashionistas like Sarah Jessica Parker, Style Clinic is as fabulous as the personal style it promotes." (Library Journal )
Style Evolution by Kendall Farr
Even though women in their forties, fifties, sixties, and beyond have never looked better, healthier, or younger, their fashion needs have changed. Unless you have the body and lifestyle of an eighteen-year-old, shopping probably isn't much fun anymore. The fashion industry seems to have turned its back on women who are forty and older, churning out collections that have nothing to do with careers or sophisticated living. Kendall Farr to the rescue! With Style Evolution, she shows readers how to create a hip, ageless, individual sense of personal style without feeding into the culture's deep obsession with looking "young."
"Can't afford a stylist? Then grab this book before you go shopping….It's like talking to a best friend with great taste."
—Cindy Weber Cleary, fashion director, InStyle magazine


Or how about some makeup brushes, from purse size to the full kit and kaboodle!
Don't forget the cosmetic we need to replace most often, a new mascara for those who need a little extra magnification a 5x magnifying mirror, you'll really be able to see clearly with this beauty.

For when you're out and about, great purse hangers, just attach it to the handles of your handbag, then hang it on the table at the cafe or restaurant.

Or storage solutions like a cedar belt hanger, keeps moths at bay, smells lovely and practical all at the same time!
Or how about a scarf spinner to hang in your closet and keep your scarves in easy reach.