I don't spend much time wearing evening wear anymore, with small kids and no full time nanny or relatives to babysit, it's costly to get out of the house. But about once a year I'm suddenly needing to wear something a bit special to a dinner or event and so have to cobble an outfit together from clothes that I already have.
So I was thinking, maybe I should think about building a fairly timeless evening wear wardrobe – that would last for years and I wouldn't always be wearing the same clothes. Here is what I've come up with.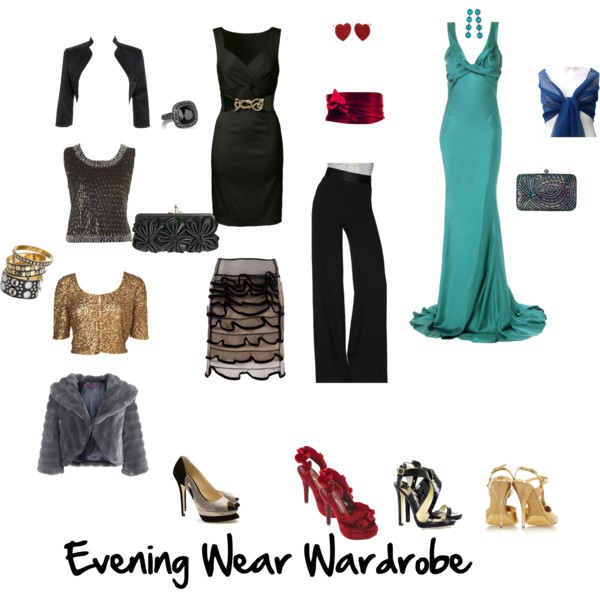 So what are the elements?
See that great black dress – you can wear it as a dress, with a wrap, or little jacket, or even put a sparkly top over the top and pretend it's a black skirt.
Change up your shoes, add a different belt and you have a whole new outfit or two or three!
A great pair of dress pants can be glammed up with a sequin top, or jacket with sheen. Add some sparkly earrings and a cocktail ring and a great pair of sandals or shoes and you're good to go (don't forget the pedicure).
Sometimes you need to go the whole hog, the formal gown, choose one in a colour that brings out the colour of your eyes, add a wrap and a great clutch to hold your lippie, phone, keys and money, maybe a wrap if it's cool. Remember to choose a classic shape – the one pictured here, this shape will stand the test of time and not date for decades!
Maybe you have a great skirt that you can dress up, add a simple top with sheen, some nude heels to elongate your legs, and a sparkly necklace to draw attention to your face.
When you consider the cost-per-wear formula, there is no point in spending lots of money on something you'll wear once. Try and find items that you can mix and match, change up with different accessories to change the look of the outfit without spending a fortune.
What are your essential items in your evening wear wardrobe?