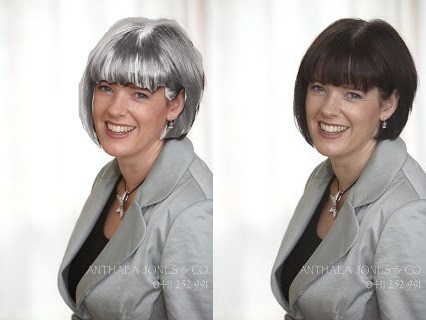 I found my first grey hair at age 15 – easy to spot because my hair was so dark. I'm now around 80% grey and dye the roots every 3 weeks. I don't feel ready to be grey, I feel it's ageing on me and doesn't feel like 'me' at all.
I've done a dodgy photoshop job on my hair to see what it might look like. What do you think? Do I look older or younger? What ages would you guess me to be with the grey hair and as a brunette?
There was a book written by Anne Kreamer called
Going Gray: How to Embrace Your Authentic Self with Grace and Style

which delves into why women choose to dye, what reactions people have to grey hair as well as the author's own choice to go grey.
Why is it I'm so averse to grey hair? Part of it I think is that I'll lose my contrast – it makes me more noticeable (and as an introvert I need that kind of help), grey hair is receding so would it make me fade into the background?
Sure I want to look younger than I am, I can't imagine that letting my hair go grey will help there (there is an interesting series of photos on Anne Kreamer's website that shows percieved and real ages with grey hair, and we always guess older with grey hair).
Is it because I've got young kids and I don't want people to think that I'm their grandmother rather than their mother?
Is is less authentic to dye? Am I hiding my 'true self' with the hair dye?
Is it because I identify grey hair with old people and I don't see myself as old, I still feel young?
What are your thoughts about grey hair? Do you dye or not? If you do or don't why?