High heels are interesting. I meet clients who love heels and wear them every day, in fact they say that heels are more comfortable than flats.
I meet clients who never wear heels, no matter what the occasion, they are just too uncomfortable for them.
I like both heels and flats. Heels work better for me with longer skirts and I feel more dressed up in a pair of heels. But I'm a mum and need to run around after my kids. Also, when I go shopping with a client, I walk an average of 4000 steps (I've worn a pedometer a few times to calculate this) during a 2 hour shopping trip, so flats are a must for me when doing this.
I may wear heels one day, but the next will definitely be a flats day. I love the look of heels, and pointy toes, but won't wear them day after day so that my feet can relax and I don't exacerbate my bunions and make them grow any larger. If I know that I'll need to stop off at the supermarket on my way home from work, I'll keep a pair of flats in the car I can slip on to walk around the shops in so my feet don't start screaming at me. I love heels, but they are for sitting down in for me (unless they're less than 1.5″ high).
When I get home I immediately take off my shoes. In summer I love to wander around barefoot, but in winter end up in ugg boots to keep my tootsies warm.
I own around 70 pairs of shoes and boots. They are all different colours, though I have more black shoes than any other colour. I live in a climate that needs very different shoes summer to winter, so there are around 35 that are in rotation at one time. Of these I probably wear 15 pairs a lot, 12 pairs frequently, and the others are dress or occasion shoes that only get a look in with the right clothes for the appropriate occasion.
I never wear the same pair of shoes or boots 2 days running – after advice from my doctor that each shoe rubs your foot in a certain place, thus creating bunions, corns and calluses over time. By rotating shoes my feet are not irritated in the same places every day, my shoes get to dry out completely between each wearing and last longer, and I get to dress up and down my outfits depending on shoe choice.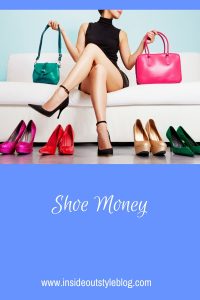 Why influences your choice of shoe? How important is comfort? Is it about the look? Is it the brand? The colour? What makes you buy a pair of shoes? How many shoes do you own? Do you wear the same 3 pairs of shoes all the time or wear all your collection?