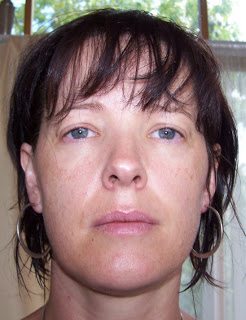 Here I am with no makeup on (and I haven't done my hair either) – you can see lots of brown pigmentation splodges (chloasma/melasma), so I wear a light liquid foundation to cover it up.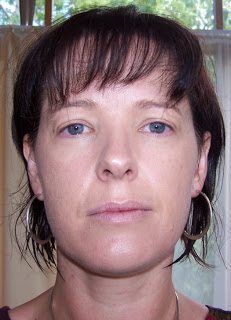 I have now applied my foundation, so most of the pigmentation is gone.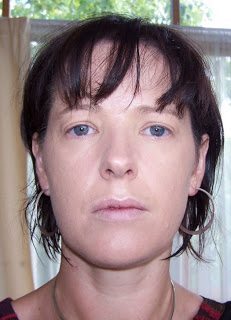 Then I apply concealer where I need it – so round my eyes (slightly yellowish to counteract the purple bags) and I also put a slightly lighter than my skin tone concealer round my mouth to define the edges of my lips. I then powder my face with either a mineral powder (winter) or oil-control powder (summer) to set my foundation.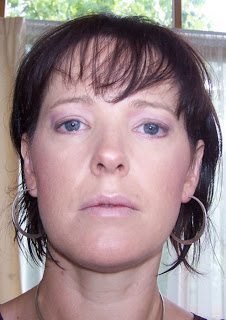 Then I apply some blush to my cheeks – I don't have very defined cheekbones, so wear it more slightly under rather than on the apples as this gives my face a more sculpted effect.
I've also applied some eyeshadow (after applying an eyeshadow base – which I happen to think is one of the best makeup products available as it stops your eyeshadow from shifting during the day).
First I apply a light pink shade all over my eyes (I've got cool colouring, and pink is an eye intensifiying colour for me), which goes all the way up to my eyebrows and down to the lashes. I also apply it to the inner corner of my eyes and along my bottom lid at the nose to open up and brighten my eyes.
As my eyelids are drooping, I apply a darker shadow (this time a grey, sometimes a cool soft brown) in a sideways V shape on the outer corner of my eye – which goes on the brow bone (but still leaving a gap under the eyebrow) and around to the top of the lashes.
I then apply a dark shadow (this time in a dark brown) as a liner, sometimes I use an activator, which seals the shadow, sometimes I just apply as a shadow, both to the top of the lashes and also to the bottom lashes, but only 1/3 to 1/2 way in toward my nose.
I then curl my lashes with a heated eyelash curler and the apply mascara.
As my eyebrows are lighter than my hair colour, I fill them in and lenghten slightly with a taupe eyebrow pencil or light brown shadow.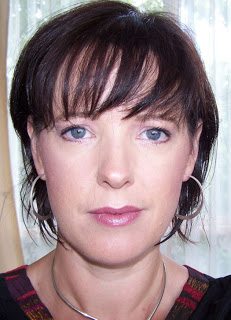 Finally I apply a lip coloured lip pencil on my lips – both around the edge and also fill in the lips, before applying lipstick.
Voila, fini! (and off I go to do my hair)
Do you have any makeup tips to share?
Apologies for the strange angles of the photos – I took them all myself with outstretched arms!