Deja Pseu of Une Femme d'un Certain Age asked for help. She is petite, and in her words:
"I think the biggest issue is dressing my 5'1″ body, especially finding petite (short) styles that work for my shape and are flattering. I have broad shoulders, big bust (34DD) short-waisted. Currently size 10 US/14UK. I've settled into very basic no-frills styles and am not a girly-girl, but wouldn't mind adding some softer, more feminine pieces to the mix. I have a pretty good sense of what colors work for me, I'm a warm-toned redhead so love autumn colors and warm greens."
Deja also mentioned that she doesn't like to expose her upper arms.
Dressing the Petite Mature Body with Style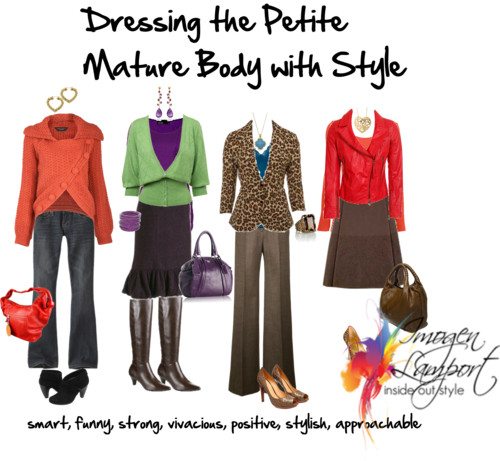 She also sent me a list of words about how she'd like to be perceived by others. I hope that she finds this appealing and helpful.
So, taking all these points into consideration I've put together this outfit.
Smart: putting clothes together that have some structure such as jackets, or are not sloppy will make you appear smart.
Funny: hard to put your finger on funny, but I think some quirky detail or interesting piece, such as a piece of jewellery or a fun leopard shoe will show your lighter side.
Strong: bold colours like red create a strong appearance.
Vivacious: like fun, accessories and a mixture of colours or prints can create a vivacious appearance. Adding in an animal print jacket will give a vivacious appearance.
Positive: the clothes chosen are not drab or dreary, they are the clothes of a glass-half-full person.
Stylish: wearing clothes that suit your personality, your body shape, proportions and colouring along with good grooming and a great pair of shoes will make you stylish.
Approachable: softer fabrics like knits (rather than always wearing structured jackets) will help you appear more approachable and friendly.
Feminine: a word that Deja mentioned in her request – I've added in some feminine jewellery, and other accessories to soften the appearance and finish the outfits.
As far as Deja's body shape goes, I've not drawn attention to her waist as it's on the shorter side, any belts will make her appear boxy.
As she's got a larger bust I've chosen some larger pendant necklaces and earrings to draw attention away from her bust and up to her face.
The skirts have some flare or frill to balance her hips but work best in more drapey fabrics. Ideally, they should sit just below the knee, and no longer.
High heels elongate her legs and give her a couple of extra inches in the height department. Colour blending shoes to trousers helps to do this too.
Further reading:
How to Find Clothes that Fit When You are Petite and Plus Size