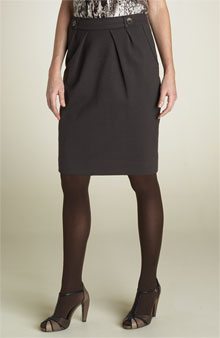 If you like the look of a straight or pencil skirt, which shape should you choose for your body?
This Premise skirt from Nordstrom with pleat details at the waistband is only suitable for women who are and I shape, straight up and down and very slim, with no hips as it will give you the appearance of hips. Also avoid this if you have a rounded belly or are bootylicious as these features will pull the pleats out of shape.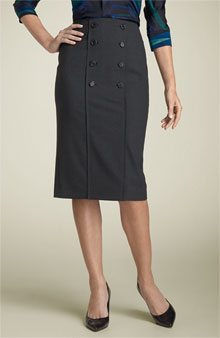 This Boss skirt also from Nordstrom would be great for someone who is eliptical in shape – that is they are considerabley wider from the front view than from the side view. The eliptical woman normally has a very flat bottom and slim thighs. The vertical detail down the front of the skirt will help to break up the front view and make it appear slimmer.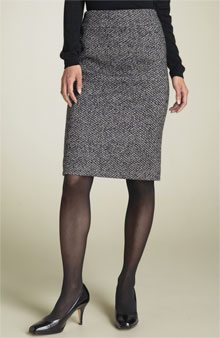 This Lafayette 148 New York skirt from Nordstrom will suit the Petite woman who needs to show a little more leg to make her appear taller, but is still long enough to be modest and flattering.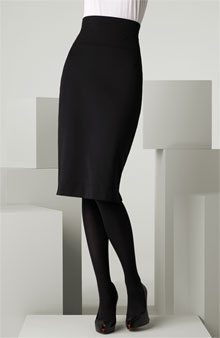 If you have a very long waist and smaller bust, a very high waisted skirt can look fabulous on you, like this one from Lida Baday at Nordstrom. It will look great teamed with a floaty shirt tucked in.
If you have a large bust and/or short waist, avoid the really high waist avoid these high waisted skirts and opt for one with a lower waistline, and preferably wear your tops untucked.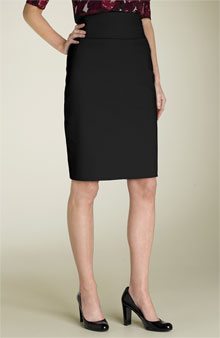 An 8 Shape (high hip – shelf-like, bootylicious) needs a straight shape with some waist detail to show off your gorgeous small waist. This Elie Tahri skirt from Nordstrom could work for you.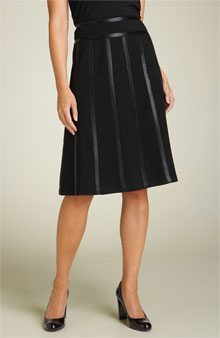 If you are an X or A shape and carry your weight on your thighs, then it's best to opt for a skirt that has a little flare or A-line shape to skim those gorgeous womanly curves. This Adrienne Vittadini skirt could be a great option for you.