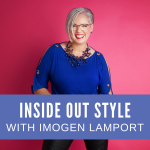 Reader Question: I wish I felt consistently stylish all the time, any tips?
Two Types of Style Confidence
Did you know that according to psychologists, there are two types of confidence – epistemic – which involves certainty about knowing that you know what you are doing or something is true. And then there is social confidence which is a measure of your level of confidence in group settings, how you feel about yourself and your interactions.
Epistemic confidence about your style comes from having an education in style and colour so you know what really does and doesn't work for you and how to put your outfits together in a way that's aesthetically pleasing. You get more of this confidence when you learn what works, have a colour analysis and choose colours you know to be flattering on you and make you look your best and brightest and have built a wardrobe of clothes that really do make you look great.
Social confidence gives you a feeling of being comfortable and secure in your own skin and when you have mastered your style, and have outfits you know work, you'll find that your social confidence increases too, which makes you more attractive.
Do You Have a Process for Getting Dressed?
When you're making your outfit choices each morning, do you have some sort of process of getting dressed? Do you know how to put garments together and then add accessories so that they work in harmony? Do your outfits express your personality from the inside out, showcasing your most positive attributes?
As I discuss in the video above. the process I went through to put this outfit together, I started with wanting to wear the skirt, and then using my knowledge of colour and proportions I chose the other items in the outfit.
Do You Know Which Colours Work on You and Work Together?
Having a colour palette where the colours more easily harmonise and work well makes it so much simpler to put outfits together that work, and knowing that those colours are also great on me, making me look more vibrant and alive is always a bonus and helps me to feel more confident. Fortunately, it's easy for you to get this information too with a personal colour analysis.
Do You Know Which Shapes Harmonise with Your Body and Body Proportions?
Then as I mentioned how knowing which shapes of clothes and proportions work in different outfits for my unique body also impacts on choices to decide what is a stylish outfit.
Having the education in style, and understanding how each of these elements of your style work together helps you see when something is off, and why it is, so how you can rectify it and then create stylish outfits consistently. Plus you get dressed every day, so the practice you get from doing this when you do it more consciously, putting your style knowledge at work, means that you get better and better at putting fabulous outfits on and this keeps increasing your epistemic confidence which in turn improves your social confidence as you don't feel that you'll be judged poorly.
What's In Your Wardrobe?
If your wardrobe is full of clothes that don't harmonise with your body or colouring, or that don't fit well and so make you feel uncomfortable and not look fabulous, you'll find it impossible to feel consistently stylish.
As one of my clients told me the other day, she loves her wardrobe now as she knows that everything in it works for her and makes her look great (that's the epistemic confidence covered), so it doesn't matter what she puts on she knows it's going to work and so she goes out feeling good and her body language expresses this to others (which has that social confidence covered too).
If you have a wardrobe full of clothing that you're not sure about, you don't love, that doesn't fit well, that doesn't make you look great, then it's really hard to be consistently stylish and it's no wonder you struggle.
Do You Want To Level Up Your Style?
Then I'd love you to watch my new free masterclass (available for a very limited only) so you can learn more about the value of consistently feeling and looking stylish and the steps you can take to get there.
How to Create a Stylish Outfit? What Are Your Criteria that Makes it Great?
If You'd Like to Define Your Style and Discover Your Colours
If you're sick of wasting money on clothes that don't work and you know there is a better way, then join my 7 Steps to Style program and get the right information for you and your style.
Subscribe to my Podcast
You can now get these videos as podcasts subscribe and never miss an episode
Send me Your Questions
Please email me your questions to be included in my Q&A Lucky Dip!