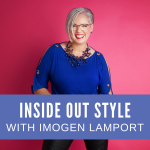 Your questions answered in this Episode
0.14 Changing hair colour -as long as the undertone is right can you change your hair to any value?
5.32 I can't wear heels (foot issues) but shoes don't look dressy – what to do?
9.45 Gained weight and my body shape has changed from X to H – how do you dress for a changed body shape?

Choosing a Hair Colour
5 Essential Questions To Ask Yourself When Choosing a Hairstyle
Shoes with Foot Issues to Look Dressy
Body Shape Changing
How Your Body Shape May Change with Age and Weight Gain or Loss
Subscribe to my Podcast
You can now get these videos as podcasts subscribe and never miss an episode
Send Me Your Colour and Style Questions
Please do email me your colour and style questions to answer on upcoming videos!