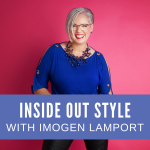 In This Episode
Can my arms/wrists be a different undertone to my face?
Until now I've just been looking for any colour that matches my colours swatch when buying clothes – I now see I need to think about taking my colour and value contrast into consideration as well.
I don't want to go grey so what colours can I dye my hair?
Undertone and Overtone of Skin
Value and Colour Contrast
What to Wear: Prints and Patterns, Getting the Value and Contrast Right
What Colour to Dye My Hair
Subscribe to my Podcast
You can now get these videos as podcasts subscribe and never miss an episode
Send Me Your Colour and Style Questions
Please do email me your colour and style questions to answer on upcoming videos!