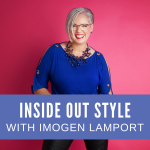 In This Episode
0.08 I'm an INFJ and the idea that I can "let style slip" in favor of comfort and versatility (from 16 style types) really resonated with me. I love clothes, and this still happens! What can I do to combat this tendency and keep committing to outfits that have unique style?
2.23 I think the hardest thing, I am not a morning person, so I don't do a lot of thinking before my first cup of coffee and my wardrobe is so uninspiring that I often don't get dressed until I absolutely have to.
Additionally I sew as a hobby and would love to sew things for myself but the last few items looked great on the mannequin but just didn't suit me. Needless to say, I haven't made anything for myself in a while.